207 killed after 8 explosion in Sri Lanka churches and hotels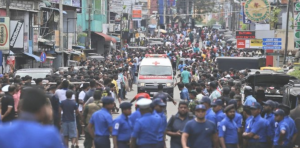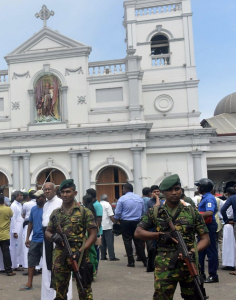 207 people were killed and over 400 injured in eight near simultaneous and coordinated explosions that rocked three churches and three five-star luxury hotels frequented by tourists in Sri Colombo, Lanka. A fresh seventh blast hit a hotel in Sri Lankan capital's southern suburb near the Colombo Zoo on Easter Sunday. The blasts happened  as Christians were attending Easter mass.  Pope Francis condemns the attacks in Sri Lanka during Easter service at the Vatican as "cruel violence".  Pope prays for victims at Vatican Easter service. Officials say at least 27 foreigners  including some British, Dutch and American citizens are among the dead and according to foreign office some Britons have been caught up in the violence in Sri Lanka. 
The Shangi-La, Kingsbury, Cinnamon Grand and a fourth hotel all in Colombo were hit. Three churches in Negombo, Batticaloa and Colombo's Kochchikade district were targeted during Easter services. A curfew has been imposed from 18:00 to 06:00 local time (12:30-00:30 GMT). The government has shut down social media networks temporarily, No group has yet said it was responsible for the attacks.
According to hospital the death toll could rise significantly.
Sri Lanka's defence minister says seven suspects have been arrested following series of blasts . Sri Lanka's Prime Minister Ranil Wickermersinghe called upon Sri Lankan's to remain united.
Trump offers Sri Lanka condolences on "horrible terrorist attacks". Treresa May tweeted condolences saying the "acts of violence against churches and hotels in Sri Lanka are truly appalling".
In the years since the end of the civil war with the defeat of the Tamil Tigers, who had fought for 26 years for an independent homeland for the minority ethnic Tamils. The war is thought to have killed about 80, 000 people, in 2009, there has been some sporadic violence with members of the minority Buddhist Sinhala community attacking mosques and Muslim owned properties.