Saudi Bond Aramco fundraising lifted to £9.12bn ($12bn)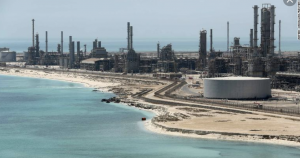 Saudi Aramco increased the amount it will raise in its first international bond sale to $12bn after attracting a record breaking $100bn in orders, far exceeding previous highs for emerging market borrowers out stripping the $67bn of demand Saudi Arabia itself saw in its 2016 government bond market debut.
The Saudi state-backed oil producers order book is approaching US pharmacy Group CVS Health which drew $120bn for a bond sale.backing its takeover of Aetna last year.
The bond offering has marked a watershed for the oil group, which has chosen to open its accounts for the first time in its 86-year history, a process which proved the world's most profitable company. When Saudi Aramco first opened the sale to investors on Monday, it had already received more than $30bn of indicative orders across a series of investment meetings in Europe, Asia and the US, three times more than the original $10bn expected deal size.
The bond sale is intimately tied to Saudi Crown Prince Mohammed bin Salman's vision to open up the Kingdom's economy to the wider world..
Neither the banks nor investors have been deterred from taking part in the deal despite last year's outrage over the ,killing of Khashoggi in the Saudi consulate in Istanbul. A Riyadh conference in October 2018 dubbed as "Davos in the deseert" was boycotted by several prominent business leaders including Jamie Dimon, of JP Morgan Chase, which is now leading the Saudi Aramco bond sale.