ABSURDITY – a "movement" and a drama group letting London children learn something new
.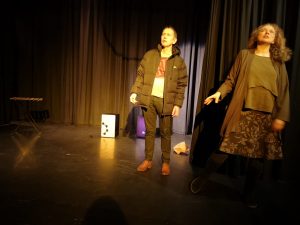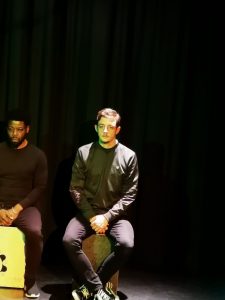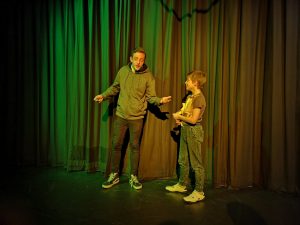 AB Drama – www.abdrama.com involves running new drama classes – creative writing included, for children between year 3 and year 6, held in primary schools in North London.
CONCEPTUAL ABSURDITY comprises of a group of talented scribes and thespians including Iulian Szalla a young schoolboy, and this is part 3 performed at The Finchley Youth Theatre .  But wait – there will be more performances and several are planned for 2019!
AB Drama is about crossing borders between play and reality, between actors and audience, between text and music.  It's about the relevance of text and of close reading and listening. It's about reduction. It's about absurdity. Donations to the cause of AB drama are welcome – check the website.
I saw on the evening of Sunday March 10th a mélange of short drama skits with a cast of entertaining lucid and likeable thespians and writers, performed at the Youth Theatre, East Finchley,  it was heartwarming, lyrical, funny, sometimes not funny – the skit "Painted Eyebrows" about two jealous sisters arguing over their deceased mother was sinister and well executed by Natalya Sirotkina and Nadege Nguyen and was deadly serious, but in all cases the cast were well versed and clearly working together efficiently as a team. That sketch was written by Charlotte Jennings in a semi autobiographical way and directed by Rick Alancroft.   Alfie Positano – a whizz on the guitar and a singer songwriter, appeared in several skits notably "What Happened Before" and "And Again" with Martin Szalla. Alfie plays guitar and writes his own material and is well versed in being a noticeable character with a wry way with words and presentation – he is a Beatles and Oasis fan who thinks Paul MaCartney held all the best cards in The Beatles line up rather than John Lennon. A notion I can identify with.
In the sketch – "Spaghetti a la Stockholm" Penelope Dudley brilliantly portrays a doting but self obsessed older mother with her "sidekick" son Bobby played by Yaser Younis. Clearly the idea of the sketch is to make the audience rock with laughter at the funny relationship between mother and son – a boy tied to mum's apron strings and wanting to fly the nest to the Abba museum in Stockholm.  A treat of a sketch full of satire and pathos. Written sensitively by Liam O'Grady, and directed by Rick Alancroft. One wonders at the sentimentality in the drama which unfolds.
"The Fairy" is what can be perhaps best described as having a farcical content with rife innuendos and a very enchanting and completely "fableised" plot.  Anthony McNally comes into his own as a Cowboy and Martin Szalla is very funny as the "policeman". Written and directed by Martin Szalla just watch and enjoy!
Shaifur Rahman wrote the controversial skit "New Lion Circus" with distant echoes of Animal Farm featuring Rick Alancroft, Anthony McNally,Nadege Nguyen, Iulian Szalla and Emmanuel Amarh with the question "Who's the Boss?" on the programme.
London audiences amongst others worldwide are always seeking something new and refreshing or stimulating in one way or another to feast their senses on.  My guess is if www.abdrama.com gets support its got legs to do well and go far. I rated all the thespians in this piece so I do hope I haven't missed anyone important out! Each and every member of the team totally "pulled their weight".   
Penny Nair Price.