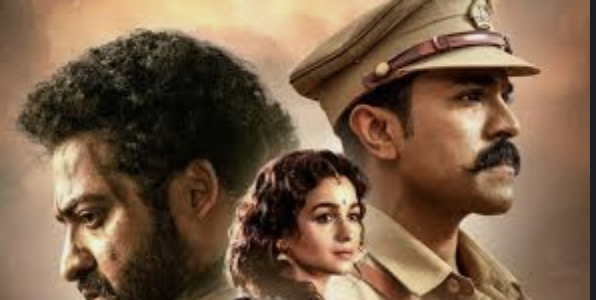 An Epic story of two revolutionaries against the British Raj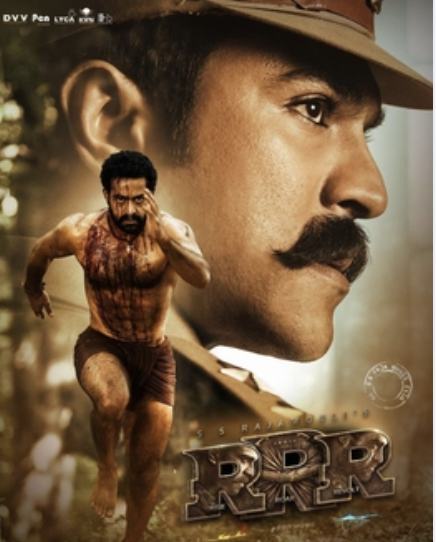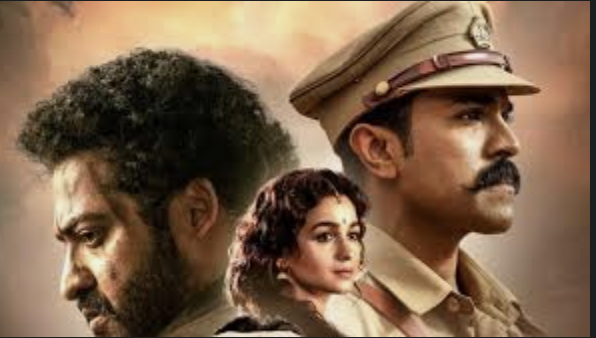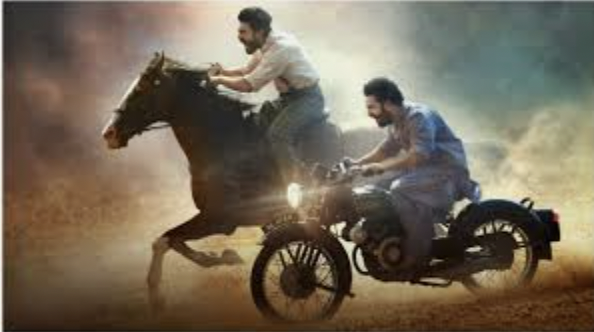 RRR  is set in 1920, a fictional story about two Indian revolutionaries Alluri Sitarama Raju ( Chara) and Komaram Bheem (Rama Rao), and their fight against the British Raj with Alia Bhatt, Shriya Saran, Ray Stevenson, Alison Doody, and Oliva Morris. The men battle courageously against the British Raj and Nizam of Hyderabad, determined to protect the independence and freedom of their people.
RRR is an Indian Telugu-language epic action drama film directed by SS Rajamouli who wrote the film with V Vijayendra Prasad. The film was shot extensively across India, with some sequences in Ukraine and Bulgaria. RRR broke the record for the highest opening-day collection earned by an Indian film which grossed  $150million worldwide.
In 1920, British Governor Scott and his wife Catherine visit a forest in Adilabad and forcefully take away Mali, a young girl with a gift for singing from the Gond Tribe. The tribe's protector Komaram Bheen tracks her down in Delhi, disguising himself as Akhtar, a Muslim with the help of a family in search of her. The Nizamate of Hyderabad warns Scott's office about Bheem's mission. Police office Rama Raju volunteers to catch Bheem in order to get a promotion as a special officer. He attends a meeting of Independence activists and proposes to assassinate Scoot.  Bheem's aide Lachnu asks Ram to join them. However, he flees after realising that Ram is in fact a police officer. Ram and Bheem meet by chance, working together to save a boy caught in a train crash explosion. They bond with each other while hiding their real original identity. Ram helps Bheem to get close to Scott's niece Jenny. Bheem visits the governor's palace at Jenny's invitation, where he silently meets Mali and assures her rescue.  Ram captures Lachhu, torturing him in vain to extract information about Bheem. Lachhu gets hold of a branded Krait snake and throws it onto Ram. Lachhu warns Ram that its bite will quickly kill him without antivenom, known only to the Gond people. Ram finds his way to Bheem, who treats him and confesses his true identity and mission to him. Bheem and his men break into the palace with a truck full of wild animals. Rams arrive as an officer and confront Bheem who fights him off and attempts to rescue Mali. Ram stops him while Scott holds Mali hostage at point-blank range forcing Bheem to surrender.  Bheem and his men are hiding in Hathras when British soldiers arrive looking for Bheem. Sita, Ram's cousin and fiancée senses danger and drives away the British by telling them the building is housing smallpox patients. She tells Bheem that Ram now faces a death sentence for saving his best friend. Bheem regrets his actions and promises Sita that he will rescue Ram. Bheem sneaks into the barracks with the help of blueprints given by Jenny. He frees Ram from the prison, mounting him on his shoulders to transport him. Together, they fight the police and escape. As Bheem treats Ram in the woods, they were ambushed by police and special forces soldiers, Ram takes a bow and arrows from a shrine of Lord Rama and retaliates.  Bheem joins him with a spear. Together, they fight the police and head towards the palace, eventually destroying the building by blasting a motorcycle into a room full of TNT. Bheem retrieves a massive cache of guns and delivers them to Ram. Catherine is killed in the chaos while Scott is killed by Ram and Bheem.
RRR is currently streaming on Netflix.