Battle of fact and fiction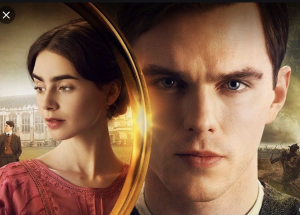 Review of Tolkein by Penny Nair Price. "Love, Adventure, Friendship,  War, Fiction."
The adult Tolkein is played by Nicholas Hoult and the youngster by Harry Gilbey. His everlasting love Edith Bratt is played by Lily Collins. Tolkein and Edith had a lifelong love affair that resulted in marriage and three children.
Two very captivating elements of the story circle around Tolkein and his love for Edith and then the outbreak of WW11. The love affair is treated very sensitively and in those days there was a lot more time for people to develop one to one relationships and experiment to finesse in the art of love. Derek Jacobi plays the course tutor at Oxford with whom Tolkein has to plead to find a place on his course. The film portrays Oxford Life after school life between Tolkein and his close set of friends who all embrace his invention of a new language and his leanings to hedonism and being somewhat of a rebel under the control of one of his friend's fathers as an orphan who tries to break up his innocent and enchanting love affair with Edith Bratt, thus – conflict – an integral part of a successful screenplay.
We are treated to very moving scenes of WWII where some of Tolkein's close friends met their final moments and to Tolkein seemingly on his last legs and yet coming through after hospitalisation to be reunited with his true and first love Edith. The WWII scenes are portrayed with very moving sensitivity and must have the audience almost squirming in their seats as modern techniques make these scenes so intimate and moving to the viewer.
Peppered throughout the drama is the development of Tolkein's plans for an alternative species on planet earth with an alternative language and alternative beasts including …dragons!! We all know as the audience that Tolkein's imagination led to The Hobbit, The Lord of The Rings, The Twin Towers,and Silmarillion. We need more of that in a follow up film – pretty please??!!
The story only gives us a taster of the iconic stories which spewed forth from Tolkeins subconscious but we all know them now anyway so maybe there is definitely room for a sequel.
The acting by the group who used to meet in a Moroccan tea rooms in Oxford and the ambience and amnity portrayed by the actors is given depth by the script. These guys were iconic and very likeable with their foibles and intellect, immensely privileged though they may have been. They stuck together and groomed Tolkein who was one of the few to come "up trumps" after the first world war so there are small cameos where Tolkein meets some of the relatives of those who did not survive to tell the tale.
Director Karl Koski has done this film proud. It is immensely sentimental in parts but the quality of film together with camera techniques, and of course the true to life story makes it a very "cosy" movie to enjoy. We want more of Tolkein penning the books so please – pretty please- we want more!!
Enjoy.