Commuter compensated £27.6k after slipping on pigeon droppings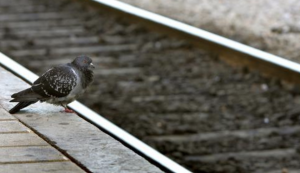 A passenger received a £27, 602, compensation pay out from Network Rail after they slipped on pigeon droppings ( Pigeon Guano) at Paddington station and could have caught the infection a yeast-like fungus called Cryptococcus.
Network Rail has paid out £ 951, 360 in the last five years as compensation for slips, trips and falls at its stations across the UK.
Most of the payouts were made following accidents at Euston, Paddington, Victoria ad Liverpool Street Stations.
The highest single amount was £39, 631 for a passenger who slipped on some liquid at Charing Cross station and another passenger received payout of £36, 392 after slips at Paddington, £35, 721 at Euston and £28, 000 after suffering a possible lacerated finger at Liverpool Street.
According to Network Rail's head of claims and insurance, Philip Thrower "Network Rail was a company that took its responsibilities seriously, with over ten of millions of people using our stations every day, only a tiny fraction of a per cent experience a mishap".
Network Rail manages 20 station across the UK including Edinburgh, Glasgow, Manchester, Liverpool, Birmingham, Reading, Guilford, Bristol Temple Meads and 11 in London.