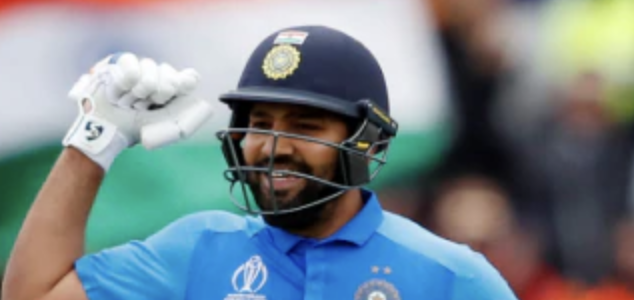 Dominant India beat Pakistan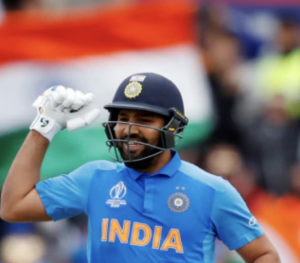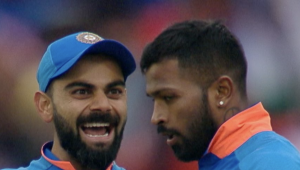 ICC World Cup Cricket, Old Trafford, Manchester
India Vs Pakistan
India 336-5 (50 ov) Rahu; 57 off 78, 3 fours, 2 sixes Rohit Sharma 140 off 113, 14 fours, 3 sixes, Virat Kohli 77 off 65, 7 fours, Amir 2-47, Hassan 1-84, Wahab 1-71.
Pakistan 212-6 (40.00) Fakhar 62 off 75, 7 fours, 1 six, Babar 48 off 57, 3fours , 1 six, Wasim 46* off 39, 6 fours, Shankar 2-22, H Pandya 2-44, K Yadav 2-32.
Pakistan won the toss and put India to bat first
India win by 89 runs (DLS method) (D/L)
India marched on with their World Cup dominance over rivals Pakistan with a rain-affected 89-run victory at Old Trafford, Manchester.
Pakistan chasing 337, collapsed 166-6 before a rain delay saw their target revised to another 136 runs from 30 balls an impossible task.
India who won 7 times and never lost a World Cup match to Pakistan, posted an impressive 336-5 assisted by Rohit Sharma's 140 and Kohli's 77.
Rohit (32) smashed record  number of sixes by an Indian in ODI and overtook MS Dhoni who has slammed 355 sixes  achieving  the feat after hitting his first six against Pakistan in the Icc World Cup on Sunday.
Mohammad Amir's 3-47n gave a glimmer of hope to Pakistan whose run-chase crumbled in front of a vociferous crowd before rain delay decided the match.
The match was a sell-out crowd, one billion TV viewers and over 700, 000 ticket requests ended with Pakistan knocking the ball around in front of a half empty stadium.
Play was interrupted when rain arrived at 18:20nBSt, but resumed 55 minutes later and within 15 minutes to go before the scheduled cut-off time.
Earlier India's batting lit up the morning, with Pakistan's innings crumpling and with rain interruption the match ended tamely.
Hardik Pandya took two wickets in two balls and Vijay Shankar impressed on his World Cup debut 2-22.
Pakistan who are ninth having just one group game face South Africa on 23rd June while India who go upto number three in the table with 7 points from 4 matches play Afghanistan on Saturday.
Pakistan captain Sarfaraz Ahmed won the toss and under grey clouds put India to bat in condition that looked ideal for seam bowling. Pakistan bowlers were ineffective with the exception of Amir.
Rahul partnering Rohit was stodgier but Rohit struck out hitting poor Hassan Ali through the off side with panache.
In front of a packed crowd, Rohit reached his fastest ODI half-century taking apart Shadab Khan with 17 runs from the leg-spinner's first over and the partner ship ended adter 136 runs with Rahul chipping Wahab Riaz straight to mid-off.
Eventually Rohit was furious to be finally caught by Wahab at short fine leg as he tried to scoop after scoring 140 but Kohil continued.
India did struggle in the final 10 overs between the rain.
Pandya was caught at long-on, MS Dhoni edged behind and Kohli walked off thinking he had nicked a hook shot to Sarfaraz despite replay showing he had missed the ball.
Pakistan's chase was a crawl needing to go at 6.74 an over, they struggled even before the anti-climatic ending when rain took over the proceedings.
Pakistan hit just six boundaries in the opening 10 overs. In the middle overs Pakistan batsman Fakhar Zaman targeted Pandya flat-battin ghim through cow-corner and wrist spinner Kuldeep Yadav was slogged to the boundary rope.
Pakistan was 117-1 in the 24th over when they lost four wickets in three overs. Kuldeep clean bowled Babar Axam and nine balls later Mohammed Hafeex holed out at long-on off Pandya. Before the rain arrived Pandya clean bowled Shoaib Malik in the next delivery.
Pakistan captain Sarfaraz Ahmed said "We didn't bowl in the right areas and India played very well.The ball was turning and spinning . India played very well in the middle of the innings. We lost so many wickets in two or three overs and that is what cost us the match".
Virat Kohli said "Rohit Sharma's knock was outstanding but to get 330 you need a team effort and that is exactly what happened. Rohit is such a good ODI player, when he gets to 70 he is unstoppable. It allows me to come in play in a certain role the guys are playing their roles nicely".