Four police officers killed after their helicopter shot down by gangs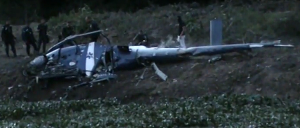 Four police officers were killed as their helicopter was shot down by drug traffickers in Brazil's Rio de Janeiro amid on going operation. Eyewitnesses

 

said witnessing continuous

 

shooting and a police presence in the Cidade de Deus (City of God)

 

suburb of Western Rio de Janeiro which is a CDD

 

Favela Slum area.
The helicopter was giving support for police operation against gangs in Favela. There has been several clashes during the price and the criminal gangs operating in the area.
In 2009, drug traffickers  shot down a police helicopter which crash landed on a football stadium killing both pilots.