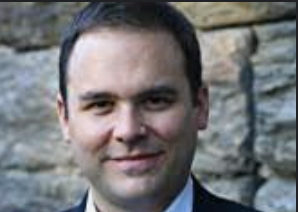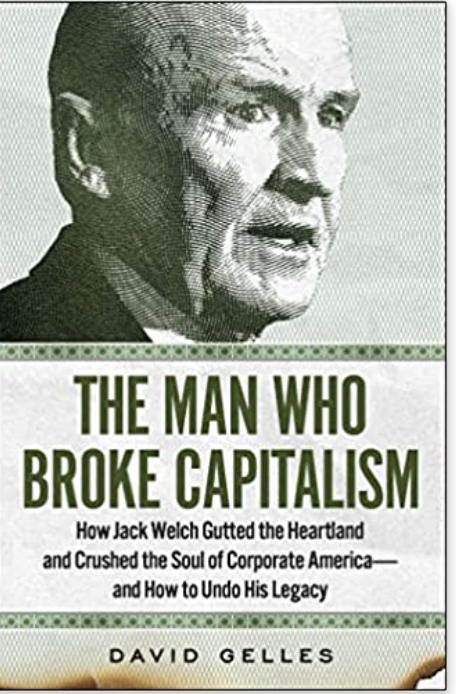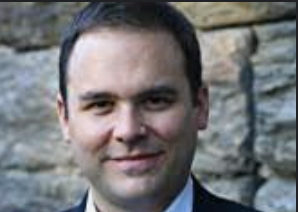 David Gelles, New York Times reporter, former financial Times reporter and  "Corner Office" columnist reveals legendary GE CEO Jack Welch to be the root of all that's wrong with capitalism today and offers advice on how we might right those wrongs.
In 1981, Jack Welch, a scrappy Boston-born outsider, who was the surprise choice for GE CEO took over General Electric and quickly rose to fame as the first celebrity CEO, as he golfed with presidents, mingled with movie stars, and was idolized for growing GE, the group founded by Thomas Edison, was then a revered but bureaucratic manufacturer of fridges, lightbulbs, motors, and wiring, into the most valuable company in the world. But Welch's achievements didn't stem from some greater intelligence or business prowess. They were the result of a sustained effort to push GE's stock price ever higher, often at the expense of workers, consumers, and innovation. It was in turn the ideal incubator for a vast experiment in the sort of hard-edged cost-cutting and restructuring that has since become familiar across the global corporate landscape. In this captivating, revelatory book, David Gelles argues that Welch single-handedly ushered in a new, cutthroat era of American capitalism that continues to this day.
Welch's campaign to vaporize hundreds of thousands of jobs in a bid to boost profits, eviscerating the country's manufacturing base and destabilizing the middle class. Welch's obsession with downsizing – he eliminated 10 per cent of employees every year – fundamentally altered GE and inspired generations of imitators who have employed his strategies at other companies around the globe. In his day, Welch was corporate America's leading proponent of mergers and acquisitions, using deals to gobble up competitors and giving rise to an economy that is more concentrated and less dynamic.  Welch pioneered the dark arts of "financialization" transforming GE from an admired industrial manufacturer into what was effectively an unregulated bank. The finance business was hugely profitable in the short term and help Welch keep GE's stock price ticking up, which ultimately, financialization undermined GE and dozens of other Fortune 500 companies.
Welch's celebrated emphasis on increasing shareholder value by any means necessary layoffs, outsourcing, offshoring, acquisitions, and buybacks, to name a few tactics became the norm in American business generally. He demonstrates how that approach has led to the greatest socioeconomic inequality since the Great Depression and harmed many of the very companies that have embraced it. And he shows how a generation of Welch acolytes radically transformed companies like Boeing, Home Depot, Kraft Heinz, and more.
The change that is now afoot in corporate America, highlights companies and leaders who have abandoned Welchism and prove that it is still possible to excel in the business world without livelihoods, gutting communities, and spurning regulation.
Welch was on the brink of being named " Manager of the Century" by Fortune magazine. His undoubted success in adding value for shareholders was much admired. His methods were copied by his corporate capitalism and fast-spreading globalization without knowing about or referring to, the rise of GE under Welch, a small man with a powerful international reach.
Since Welch retired in 2001, Welchism has left a trail of destruction over today's corporate economy, from Amazon's working practices to Kraft Heinz's drastic efficiency drive. Welch's reputation started to crumble almost as soon as he handed the reins of GE to his successor Jeffery Immelt. Beginning with the collapse of the energy group Enron, a spate of US scandals exposed CEOs' excesses. Welch caught the backlash, having to renounce some of the previously unquestioned perks in his retirement package, which included tickets to a box at Fenway Park, where his favorite Red Sox played baseball, and an apartment at the Trump International Hotel & Tower overlooking Central Park. Almost until his death in 2020, he continued to be in demand for his forthright soundbites on CNBC, the business channel once controlled by GE. He added business luster to Donald Trump's candidacy and the presidency by endorsing him. He set up an MBA programme in his own name. His direct legacy at GE was tarnishing fast. GE Capital, the fast financial business he had built inside the conglomerate lived on to haunt his successor Immelt into the financial crisis of 2008 and beyond.  GE's eerily smooth double-digit increases in earnings under Welch proved impossible to sustain. The group's longstanding reputation as a hand on school for future CEOs finally disintegrated in 2018, when the board appointed an outsider Larry Culp as CEO, who is in the process of dismantling the house that Jack built.
GE alumni tried to apply Welchist management at organizations as varied as Boeing, manufacturer 3M, and do-it-yourself chain Home Depot. Former GE boss's fingerprints on the chain of mistakes that led to the fatal Boeing 737 Max crashes in 2018 and 2019. Dave Calhoun took over as CEO of Boeing after the crashes.
David Gelles holds Welch largely responsible for the evisceration of corporate America and the corruption of its body politic and compares Welchism to a Darwin creed of "downsizing, dealmaking, and financialisation", with imperialism. He describes it as a virus whose genetic origins lay in economist Milton Friedman's Theory of shareholder primacy.
The Man Who Broke Capitalism: How Jack Welch Gutted the Heartland and Crushed the Soul of Corporate America – and How to Undo His Legacy by David Gelles, Simon & Schuster £19.99/ $28, 272 pages.