Scaffolding collapse at Pond Street no injuries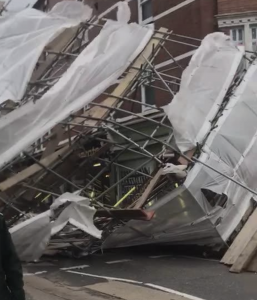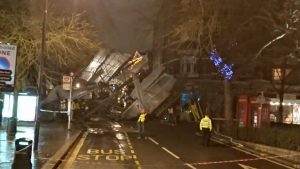 Over 200 square meters of four-storey scaffolding collapsed in high 55mph winds and fell on to Pond Street opposite to the Royal Free Hospital, Hampstead Heath, North West London on Thursday.
London Fire Brigade which called at 14:46, said " surrounding buildings were evacuated as a precaution and a cordon was put in place. 200 Square meters of scaffolding from ground to third floor level collapsed into the road way, Thankfully there were no injuries. Two fire engines and three fire rescue units were are the scene."
The section which collapsed was attached to a block of flats, left a mass of bent and twisted scaffold tubes and broken boards.
According to an eyewitness "there was lot of screaming as it looked like th4 wind called the polythene and the scaffolding gave away."