Sony's Z5 – the first smartphone to feature a 4K-resolution screen.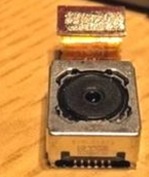 Sony's Xperia Z5 Premium can both capture video in "ultra-high definition" quality and then play it back on its 5.5in (14cm) display without downgrading the footage, as all their Z5 handsets feature a new 23 megapixel sensor camera module.
The Z5 Premium's ultra impressive screen which has  4K resolution of the 5.5-inch display gives an intimidating pixel density of 806 ppi (the resolution of the 5.5-inch iPhone 6 Plus is 401 ppi), It's the best screen we've seen on a smartphone, looking at the preprepared 4K footage Sony included for its demo.  There are only a limited amount of professional content available in 4K – which provides about four times the number of pixels as 1080p high definition video. Although, Sony's mobile division loses money, its camera components are profitable. Apple, Samsung, Xiaomi and Huawei are among rival handset-makers to have used earlier generations Sony's photo-capture technologies, however this new sensor is kept exclusively for Sony Z5 devices. Sony recently forecast in the mobile handset business to rack up a 60bn yen ($500m; £326m) operating loss in its current financial year.
But it forecast its image sensor wing – which also makes parts for bigger cameras – would generate 580bn yen ($4.8bn; £3.1bn) of sales over the same period.
Sony hopes its mobile phones will become profitable again in 2016.
Sony unveiled its new Android-powered handsets at Berlin's Ifa tech show.
But Z5 Premium would upscale videos streamed from YouTube and Netflix to take advantage of the display.
One of the big concerns about high-definition screens is that they run down batteries more quickly. Sony says its use of a "high capacity" 3,430 mAh battery and memory-on-display tech – which allows a static image to remain on show without requiring extra processing power – should mean the handset lasts for "up to two days" between charges.
Sony's Z5 is offering something outstanding that its competitors can't provide today and raising brand awareness."
Sony's new camera module benefits from the introduction of a "closed-loop actuator" stabilisation system. This adds a position sensor to the part, which is used to detect small disturbances and then compensate for them by making the lens move up and down in its housing in a related fashion. So Z5 can film less jerky video clips. The addition of a sixth camera element causes more light to fall on to the sensor, which should aid low-light photography.
Sony has also added more "phase-detection" pixels to the sensor. These are used to speed up autofocus and now cover the complete frame rather than just its central area so the sensor can react more quickly to action occurring on the edge of shot.
The Z5's camera is capable of refocusing in 0.03 seconds, making it "the fastest autofocus in a smartphone".