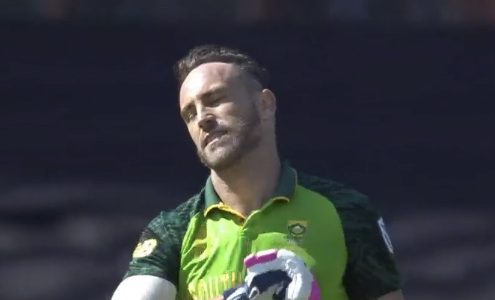 South Africa best Australia in a thriller and meet England in the semifinals
ICC World Cup Men's Cricket at Old Trafford, Manchester
South Africa Vs Australia
South Africa 325-6 (50 overs) du Plessis 100, de kock. 52, can see Dussen 95, starc2-59, Lyon 2-53, behrendroff 1-55, Cummins 1-66.
South Africa win by 10 wickets
South Africa beat Australia in World Cup after 27 years.
Australia face England on Thursday's semifinals in Edgbaston.
India play New Zealand at Zoloft Trafford on Tuesday .
Warner's 122 and Carey's 95 got Australia close but their efforts were in vain.
Earlier Du Plessis century and his 151 stand with  van Dee fusses 95 enabled South Africa to post 325-6.
Australia 315 ao (50 overs) Warner 122, Carey 85, Rsbada 3-56, pretorious 2-27, phehlukwayo2-22, Tahir 1-59, Morris 1-63