Spell " a gripping film Noir Icelandic saga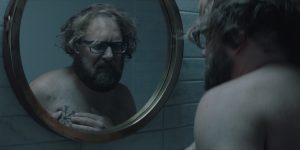 SPELL – a truly gripping Film Noir Icelandic Saga. Raindance 27th London Film Festival.
Don't misunderstand – the whole of the film is in English save for a few words in the background in Icelandic so not to worry about that then! But watch out for the magical hieroglyphics!
A Crush Pictures feature production starring Barak Hardley (playing an American Illustrator) and also scripted by Barak and Patrick Stump, this story involves ancient Icelandic magic and runes in the wild Icelandic countryside – the runes carved onto stones. It had its world premiere at LA Film Festival. Barak aged 44 and originally from Florida has also appeared in "What Lives Inside". Stars include Jackie Tohn, Magnus Jonsson and Birna Run. Executive Producers are Bob Mclynn and Jonathan Daniel.
This is a dream of a story with some outside the box humour deeply injected into the plot concerning our protagonist's obsession with licking things and sticking things in his ear. Perhaps, and I only say perhaps, some of the story may emanate from the habits of a real living person.
On a trip to try and cope with a past romance that went disasterously wrong, our protagonist goes to Iceland to deal with his demons only to fall into the hands of some sinister Icelanders who want to lead him astray and down a dark path of self realization and dark magic challenging his very life. In the background a minor sub plot plays out when he is deprived of his medication and has to phone his psychiatrist back in the states for this.
The Icelanders follow him into the mystifying wilds of Iceland where an Icelandic magic tattoo which he has done after a brief fling with one of them leads to the reincarnation of his lost love. Heavily hinted at throughout the film is that our protagonist could be imagining it all but may not be!
The ending in my view is a tad disappointing as the audience has grown to love the character. But I won't be a spoiler as you may want to inject your own desired idea for an ending for this gripping film played out for us with the genius of Barak Hardley's acting. Jackie Tohn who plays his love lost and found is a mesmeric influence to the piece – laid back, elegant, teasing, tormented, mocking and beautiful.
One might wish to see more work of this nature as it breaks new ground and crosses boundaries of what you might come to expect from relatively low budget movies. Every single part of this film defies tradition of same old same old and the acting is ground breaking and though done with solemnity it can't avoid raising a cynical chuckle from the viewer. ENJOY.
Penny Nair Price