Vila, world's one of the oldest gorilla dies in captivity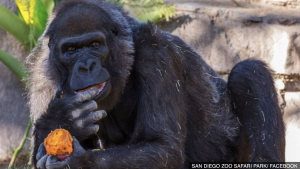 Vila, who was born in Congo in 1957, died at San Diego Zoo Safari park on Friday 26th January 2018, at the age of 60.
According to Peggy Sexton, a lead animal keeper at the Safari Park in California, Gorillas typically live for 35-40 years.
The oldest living gorilla in captivity is thought to be 61-year-old Trudy at Little Rock Zoo in Arkansas.