"We moved from being part of nature to being apart from nature" David Attenborough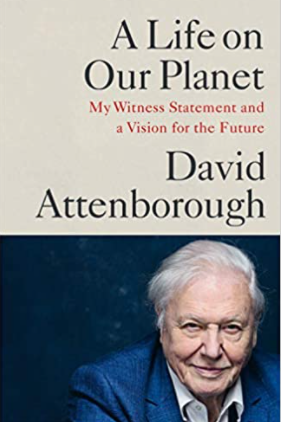 David Attenborough, the 94-year-old natural historian, broadcaster, and legend who filmed his first wildlife documentary in Sierra Leone while the country was still a British colony and seen a colossal expanse of the natural world.
In  A Life On Our Planet, he highlights the natural world has been damaged and how much trouble we are in because of that.  "The natural world is fading… It will lead to our destruction, and loss of biodiversity" he says.
Attenborough begins in Pripyat in northern Ukraine, a town abandoned after the Chernobyl nuclear disaster and could become the accidental blueprint for places around the world- as climate change and ecosystem collapse take over.
If humans continue to cut down the Amazon, the forest may start to die off in the 2030s destabilising South America and the world.
A Netflix documentary displaying sawn down huge trees, orangutans clinging to lone trunks, and whales being harpooned into bloody chunks.
David Attenborough says " The living world is essentially solar-powered," begins his chapter urging a shift to renewable energy. " We moved from being part of nature to being apart from nature."
Humans fail to realise what they have lost because they only remember what was there when they were born. The book includes statistics about earth at different stages of his life. He grew up on a planet of 2 billion people, where two-thirds of the land was " wilderness". Over 90 years later, humans now number 8 billion and have left only a third of the land largely untransformed.
In the 1950s: "That was before any of us were aware that there were problems", That's only half-true: the conservation movement- hinged on the disappearance of landscapes and the hunting of wild animals had been going since the 19th century.
We have known since a UN landmark report in 2006 that humans need to eat less meat for environmental reasons and wasn't until a decade later in 2016, that Attenborough encouraged people to cut down.
David Attenborough continues " As a young man, I felt I was out there in the wild, experiencing the untouched natural world- but it was an illusion. The tragedy of our time has been happening all around us, barely noticeable from day to day- the loss of our planet's wild place, its biodiversity. I have been witness to this decline. It is the story of how we came to make this, our greatest mistake- and how, if we act now, we can yet put it right. We have one final chance to create the perfect home for ourselves and restore the wonderful world we inherited. All we need is the will to do so."
Attenborough's autobiography inspires and instills a powerful message about the critical importance of will in tackling the climate crisis and preserving our precious ecosystem for generations to come.
A Life On Our Planet: My Witness Statement and a Vision for the Future by David Attenborough, Ebury £20, 272 pages.