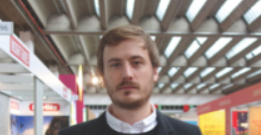 Britain's smallest and youngest independent publisher makes his mark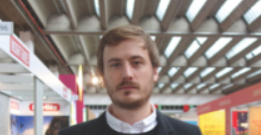 Five years ago Jacques Testard visited Frankfurt Book Fair  and acquired the English-language rights for a  book by a Ukrainian-born author shunned by mainstream publishers. Little did he know, a year later that £3, 500 investment, the biggest advance paid by his newly formed Fitzcarraldo Publishing House – paid off handsomely when Svetlana Alexievich won the 2015 Nobel Prize for literature, enabling him to command a "good six figure sum" for the US rights to her book, Second-hand Time, an account of the Soviet Union's collapse.
Next Testard is heading back to Frankfurt with another Nobel winner on his books Olga Togarczuk, the Polish novelist whose works were honoured this week by the Swedish Academy for their imagination and wit. Mr Testard ordered the printing of 30, 000 copies of Ms Togarczuk's novels, Flights and Drive Your Plow Over the Bones of the Dead in anticipation of increased sales.
The second Nobel winner in five years is quite an achievement for one of the Britain's smallest and youngest independent publishing houses. " I guess it pays to take risks said Mr Testard, 34, who set up Fitzcarraldo in 2014 with the ambition to create a "continental  (European style) pubisher" centred on individual authors and a select list of titles.
This development has made space for a wave of small and energetic independent such as Fitzcarraldo which has made a name for its highbrow sensibilities and foreign language fiction.
 This year's Booker Prize, which will be awarded next week,  several notable imprints shortlisted include "And Other Stories, One World, Peirene and Galley Beggar, puboisher of Ducks, Newburyport, Lucy Ellmann's 1000 page single sentence novel.
Today's new independents have been aided by technology that has simplified many of the processes of publishing, and an ability to harness social media to build communities of readers interested in certain genres of books. This has enabled the likes of Fitzcarraldo to keep control of overheads and budgets, whose South-East London office in Deptford  that once hosted nightclub.
Fitzcarraldo sales were about £500, 000 last year, profits of £1, 100, Successes in Nobel and Man Booker  which Togarczuk won last year boost sales but do not guarantee security.