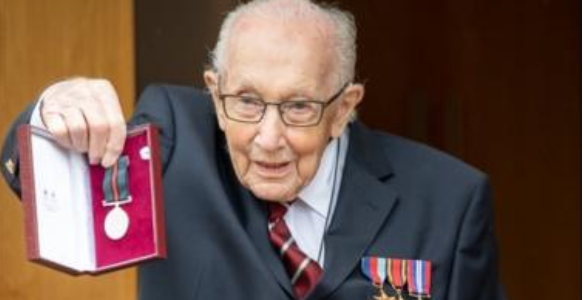 Captain Tom Moore upgraded to colonel on his 100th Birthday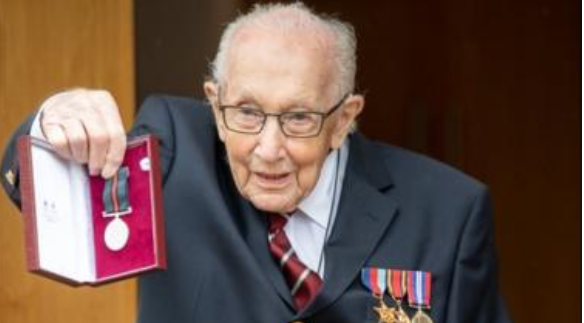 Several tributes came flying in to help the war veteran who has raised £30m for the NHS by walking laps of his garden,  mark his 100th birthday. The occasion was marked with an RAF flypast and birthday greeting from the Queen and the prime minister.
Captain Tom Moore has received 140, 000 birthday cards.
"Reaching 100 is quite something. Reaching 100 with such interest in me and huge generosity from the public is very overwhelming. People keep saying what I have done is remarkable, however, it's actually what you have done for me which is remarkable. Please always remember tomorrow will be a good day" Colonel Tom said.
Capt Tom was informed of his promotion to honorary colonel in a letter presented by Lt Col Thomas Miller, commanding officer of the 1st Battalion The Yorkshire Regiment at his home.
New NHS data reveals black people account for 13 per cent of London's population but 16 per cent of deaths due to coronavirus pandemic.
London has seen over 5, 000 deaths linked ot the virus. The majority of the patients that died  55 per cent were from a white background, but proportionately fewer Asian people died with coronavirus.
| | | | | | | | | | | | |
| --- | --- | --- | --- | --- | --- | --- | --- | --- | --- | --- | --- |
| Country, | Total | New | Total | New | Total | Active | Serious, | Tot Cases/ | Deaths/ | Total | Tests/ |
| Other | Cases | Cases | Deaths | Deaths | Recovered | Cases | Critical | 1M pop | 1M pop | Tests | 1M pop |
| World | 3,232,064 | 13,880 | 228,505 | 475 | 1,007,866 | 1,995,693 | 59,768 | 415 | 29.3 |   |   |
| USA | 1,064,572 | 378 | 61,669 | 13 | 147,411 | 855,492 | 18,671 | 3,216 | 186 | 6,139,911 | 18,549 |
| Spain | 236,899 | | 24,275 | | 132,929 | 79,695 | 7,764 | 5,067 | 519 | 1,414,477 | 30,253 |
| Italy | 203,591 | | 27,682 | | 71,252 | 104,657 | 1,795 | 3,367 | 458 | 1,910,761 | 31,603 |
| France | 166,420 | | 24,087 | | 48,228 | 94,105 | 4,207 | 2,550 | 369 | 463,662 | 7,103 |
| UK | 165,221 |   | 26,097 |   | N/A | 138,780 | 1,559 | 2,434 | 384 | 818,539 | 12,058 |
| Germany | 161,539 | | 6,467 | | 123,500 | 31,572 | 2,415 | 1,928 | 77 | 2,547,052 | 30,400 |
| Turkey | 117,589 | | 3,081 | | 44,040 | 70,468 | 1,574 | 1,394 | 37 | 991,613 | 11,757 |
| Russia | 106,498 | 7,099 | 1,073 | 101 | 11,619 | 93,806 | 2,300 | 730 | 7 | 3,490,000 | 23,915 |
| Iran | 93,657 | | 5,957 | | 73,791 | 13,909 | 2,965 | 1,115 | 71 | 453,386 | 5,398 |
| China | 82,862 | 4 | 4,633 | | 77,610 | 619 | 41 | 58 | 3 | | |
| Brazil | 79,685 | 324 | 5,513 | 2 | 34,132 | 40,040 | 8,318 | 375 | 26 | 339,552 | 1,597 |
| Canada | 51,597 | | 2,996 | | 20,327 | 28,274 | 557 | 1,367 | 79 | 779,613 | 20,656 |
| Belgium | 48,519 | 660 | 7,594 | 93 | 11,576 | 29,349 | 769 | 4,186 | 655 | 226,724 | 19,563 |
| Netherlands | 38,802 | | 4,711 | | N/A | 33,841 | 804 | 2,265 | 275 | 213,372 | 12,453 |
| Peru | 33,931 | | 943 | | 10,037 | 22,951 | 623 | 1,029 | 29 | 296,262 | 8,985 |
| India | 33,062 | | 1,079 | | 8,437 | 23,546 | | 24 | 0.8 | 830,201 | 602 |
| Switzerland | 29,407 | | 1,716 | | 22,600 | 5,091 | 167 | 3,398 | 198 | 260,500 | 30,100 |
| Ecuador | 24,675 | | 883 | | 1,557 | 22,235 | 146 | 1,399 | 50 | 61,529 | 3,487 |
| Portugal | 24,505 | | 973 | | 1,470 | 22,062 | 169 | 2,403 | 95 | 379,551 | 37,223 |
| Saudi Arabia | 21,402 | | 157 | | 2,953 | 18,292 | 125 | 615 | 5 | 200,000 | 5,745 |
| Sweden | 20,302 | | 2,462 | | 1,005 | 16,835 | 479 | 2,010 | 244 | 119,500 | 11,833 |
| Ireland | 20,253 | | 1,190 | | 13,386 | 5,677 | 129 | 4,102 | 241 | 153,954 | 31,179 |
| Mexico | 17,799 | 1,047 | 1,732 | 163 | 11,423 | 4,644 | 378 | 138 | 13 | 81,912 | 635 |
| Singapore | 16,169 | 528 | 14 | | 1,188 | 14,967 | 22 | 2,764 | 2 | 143,919 | 24,600 |
| Israel | 15,870 | 36 | 219 | 4 | 8,412 | 7,239 | 117 | 1,834 | 25 | 364,467 | 42,108 |
| Pakistan | 15,759 | 234 | 346 | 3 | 4,052 | 11,361 | 111 | 71 | 2 | 174,160 | 788 |
| Austria | 15,452 | 50 | 584 | 4 | 12,907 | 1,961 | 128 | 1,716 | 65 | 256,399 | 28,469 |
| Chile | 15,135 | 250 | 216 | | 8,057 | 6,862 | 377 | 792 | 11 | 172,619 | 9,030 |
| Japan | 13,965 | 70 | 425 | 12 | 2,368 | 11,172 | 306 | 110 | 3 | 164,255 | 1,299 |
| Belarus | 13,181 | | 84 | | 2,072 | 11,025 | 92 | 1,395 | 9 | 168,986 | 17,883 |
| Poland | 12,781 | 141 | 628 | 4 | 3,236 | 8,917 | 160 | 338 | 17 | 324,527 | 8,575 |
| Qatar | 12,564 | | 10 | | 1,243 | 11,311 | 72 | 4,361 | 3 | 91,415 | 31,730 |
| Romania | 11,978 | | 695 | 2 | 3,569 | 7,714 | 247 | 623 | 36 | 166,993 | 8,681 |
| UAE | 11,929 | | 98 | | 2,329 | 9,502 | 1 | 1,206 | 10 | 1,122,000 | 113,443 |
| S. Korea | 10,765 | 4 | 247 | 1 | 9,059 | 1,459 | 55 | 210 | 5 | 619,881 | 12,091 |
| Ukraine | 10,406 | 540 | 261 | 11 | 1,238 | 8,907 | 138 | 238 | 6 | 111,859 | 2,558 |
| Indonesia | 10,118 | 347 | 792 | 8 | 1,522 | 7,804 | | 37 | 3 | 86,985 | 318 |
| Denmark | 9,158 | 150 | 443 | | 6,366 | 2,349 | 66 | 1,581 | 76 | 193,165 | 33,349 |
| Serbia | 8,724 | | 173 | | 1,292 | 7,259 | 78 | 998 | 20 | 78,942 | 9,035 |
| Philippines | 8,488 | 276 | 568 | 10 | 1,043 | 6,877 | 31 | 77 | 5 | 98,941 | 903 |
| Norway | 7,710 | | 207 | | 32 | 7,471 | 40 | 1,422 | 38 | 169,124 | 31,197 |
| Bangladesh | 7,667 | 564 | 168 | 5 | 160 | 7,339 | 1 | 47 | 1 | 64,666 | 393 |
| Czechia | 7,581 | 2 | 227 | | 3,120 | 4,234 | 68 | 708 | 21 | 242,088 | 22,606 |
| Australia | 6,753 | 7 | 91 | 2 | 5,715 | 947 | 34 | 265 | 4 | 563,641 | 22,104 |
| Dominican Republic | 6,652 | | 293 | | 1,228 | 5,131 | 144 | 613 | 27 | 25,368 | 2,339 |
| Panama | 6,378 | 178 | 178 | 2 | 527 | 5,673 | 92 | 1,478 | 41 | 29,837 | 6,915 |
| Colombia | 6,211 | 4 | 278 | | 1,411 | 4,522 | 118 | 122 | 5 | 95,085 | 1,869 |
| Malaysia | 6,002 | 57 | 102 | 2 | 4,171 | 1,729 | 40 | 185 | 3 | 160,296 | 4,953 |
| South Africa | 5,350 | | 103 | | 2,073 | 3,174 | 36 | 90 | 2 | 197,127 | 3,324 |
| Egypt | 5,268 | | 380 | | 1,335 | 3,553 | | 51 | 4 | 90,000 | 879 |
| Finland | 4,906 | | 206 | | 2,800 | 1,900 | 51 | 885 | 37 | 89,800 | 16,207 |
| Morocco | 4,321 | | 168 | | 928 | 3,225 | 1 | 117 | 5 | 32,930 | 892 |
| Argentina | 4,285 | | 214 | | 1,192 | 2,879 | 144 | 95 | 5 | 56,058 | 1,240 |
| Algeria | 3,848 | | 444 | | 1,702 | 1,702 | 22 | 88 | 10 | 6,500 | 148 |
| Moldova | 3,771 | | 111 | | 1,114 | 2,546 | 212 | 935 | 28 | 11,763 | 2,916 |
| Luxembourg | 3,769 | | 89 | | 3,134 | 546 | 21 | 6,021 | 142 | 41,758 | 66,708 |
| Kuwait | 3,740 | | 24 | | 1,389 | 2,327 | 66 | 876 | 6 | 179,000 | 41,915 |
| Kazakhstan | 3,273 | 135 | 25 | | 819 | 2,429 | 41 | 174 | 1 | 249,527 | 13,289 |
| Thailand | 2,954 | 7 | 54 | | 2,684 | 216 | 61 | 42 | 0.8 | 178,083 | 2,551 |
| Bahrain | 2,921 | | 8 | | 1,455 | 1,458 | 1 | 1,717 | 5 | 126,905 | 74,581 |
| Hungary | 2,775 | 48 | 312 | 12 | 581 | 1,882 | 54 | 287 | 32 | 72,951 | 7,552 |
| Greece | 2,576 | | 139 | | 577 | 1,860 | 41 | 247 | 13 | 72,130 | 6,920 |
| Oman | 2,348 | 74 | 10 | | 495 | 1,843 | 3 | 460 | 2 | | |
| Afghanistan | 2,171 | 232 | 64 | 4 | 260 | 1,847 | 7 | 56 | 2 | 10,022 | 257 |
| Armenia | 2,066 | 134 | 32 | 2 | 929 | 1,105 | 10 | 697 | 11 | 21,125 | 7,129 |
| Croatia | 2,062 | | 67 | | 1,288 | 707 | 19 | 502 | 16 | 34,476 | 8,398 |
| Uzbekistan | 2,017 | 15 | 9 | | 1,096 | 912 | 8 | 60 | 0.3 | 242,536 | 7,247 |
| Iraq | 2,003 | | 92 | | 1,346 | 565 | | 50 | 2 | 86,708 | 2,156 |
| Cameroon | 1,832 | | 61 | | 934 | 837 | 12 | 69 | 2 | | |
| Iceland | 1,797 | | 10 | | 1,656 | 131 | | 5,266 | 29 | 47,573 | 139,411 |
| Azerbaijan | 1,766 | | 23 | | 1,267 | 476 | 18 | 174 | 2 | 137,379 | 13,549 |
| Nigeria | 1,728 | | 51 | | 307 | 1,370 | 2 | 8 | 0.2 | 12,828 | 62 |
| Bosnia and Herzegovina | 1,677 | | 65 | | 710 | 902 | 4 | 511 | 20 | 29,130 | 8,879 |
| Ghana | 1,671 | | 16 | | 188 | 1,467 | 4 | 54 | 0.5 | 106,090 | 3,414 |
| Estonia | 1,666 | | 50 | | 236 | 1,380 | 10 | 1,256 | 38 | 51,188 | 38,588 |
| Bulgaria | 1,488 | 41 | 65 | 1 | 266 | 1,157 | 38 | 214 | 9 | 45,208 | 6,506 |
| New Zealand | 1,476 | 2 | 19 | | 1,241 | 216 | 1 | 306 | 4 | 134,570 | 27,906 |
| Cuba | 1,467 | | 58 | | 617 | 792 | 14 | 130 | 5 | 45,344 | 4,003 |
| North Macedonia | 1,442 | | 73 | | 627 | 742 | 13 | 692 | 35 | 16,050 | 7,704 |
| Slovenia | 1,418 | | 89 | | 1,091 | 238 | 22 | 682 | 43 | 52,830 | 25,412 |
| Slovakia | 1,396 | 5 | 23 | 1 | 524 | 849 | 8 | 256 | 4 | 85,922 | 15,738 |
| Lithuania | 1,385 | 10 | 45 | | 589 | 751 | 17 | 509 | 17 | 125,555 | 46,121 |
| Guinea | 1,351 | | 7 | | 313 | 1,031 | | 103 | 0.5 | | |
| Ivory Coast | 1,238 | | 14 | | 557 | 667 | | 47 | 0.5 | | |
| Bolivia | 1,110 | 57 | 59 | 4 | 117 | 934 | 3 | 95 | 5 | 5,791 | 496 |
| Djibouti | 1,077 | | 2 | | 599 | 476 | | 1,090 | 2 | 12,985 | 13,143 |
| Hong Kong | 1,038 | | 4 | | 830 | 204 | 4 | 138 | 0.5 | 145,640 | 19,426 |
| Tunisia | 980 | | 40 | | 294 | 646 | 20 | 83 | 3 | 22,062 | 1,867 |
| Senegal | 882 | | 9 | | 315 | 558 | 1 | 53 | 0.5 | 466 | 28 |
| Latvia | 858 | 9 | 15 | | 348 | 495 | 3 | 455 | 8 | 57,886 | 30,689 |
| Cyprus | 843 | | 15 | | 148 | 680 | 15 | 698 | 12 | 53,219 | 44,079 |
| Honduras | 771 | 33 | 71 | 5 | 79 | 621 | 10 | 78 | 7 | 3,643 | 368 |
| Albania | 766 | | 30 | | 455 | 281 | 4 | 266 | 10 | 8,028 | 2,790 |
| Kyrgyzstan | 746 | 17 | 8 | | 462 | 276 | 12 | 114 | 1 | 51,472 | 7,889 |
| Andorra | 743 | | 42 | | 423 | 278 | 17 | 9,616 | 544 | 1,673 | 21,653 |
| Lebanon | 721 | | 24 | | 150 | 547 | 44 | 106 | 4 | 32,446 | 4,754 |
| Niger | 713 | | 32 | | 435 | 246 | | 29 | 1 | 5,148 | 213 |
| Costa Rica | 713 | | 6 | | 323 | 384 | 8 | 140 | 1 | 13,117 | 2,575 |
| Diamond Princess | 712 | | 13 | | 645 | 54 | 4 | | | | |
| Sri Lanka | 649 | | 7 | | 139 | 503 | 2 | 30 | 0.3 | 17,715 | 827 |
| Burkina Faso | 641 | | 43 | | 498 | 100 | | 31 | 2 | | |
| Uruguay | 630 | 5 | 15 | | 412 | 203 | 11 | 181 | 4 | 19,016 | 5,474 |
| Guatemala | 585 | 28 | 16 | | 65 | 504 | 5 | 33 | 0.9 | 7,200 | 402 |
| Somalia | 582 | | 28 | | 20 | 534 | 2 | 37 | 2 | | |
| San Marino | 563 | | 41 | | 69 | 453 | 6 | 16,592 | 1,208 | 2,235 | 65,869 |
| Georgia | 539 | 22 | 6 | | 178 | 355 | 6 | 135 | 2 | 13,673 | 3,428 |
| Channel Islands | 537 | | 38 | | 386 | 113 | | 3,089 | 219 | 5,342 | 30,725 |
| DRC | 500 | 9 | 31 | 1 | 65 | 404 | | 6 | 0.3 | | |
| Mali | 482 | | 25 | | 129 | 328 | | 24 | 1 | 2,172 | 107 |
| Tanzania | 480 | | 16 | | 167 | 297 | 7 | 8 | 0.3 | | |
| Malta | 463 | | 4 | | 339 | 120 | 1 | 1,049 | 9 | 31,736 | 71,875 |
| Mayotte | 460 | | 4 | | 235 | 221 | 4 | 1,686 | 15 | 2,700 | 9,897 |
| Jordan | 451 | | 8 | | 356 | 87 | 5 | 44 | 0.8 | 63,737 | 6,247 |
| Taiwan | 429 | | 6 | | 322 | 101 | | 18 | 0.3 | 62,844 | 2,639 |
| Réunion | 420 | | | | 300 | 120 | 2 | 469 | | | |
| Jamaica | 396 | | 7 | | 29 | 360 | 3 | 134 | 2 | 3,993 | 1,348 |
| El Salvador | 395 | 18 | 9 | | 118 | 268 | 3 | 61 | 1 | 24,057 | 3,709 |
| Kenya | 384 | | 15 | | 129 | 240 | 2 | 7 | 0.3 | 17,992 | 335 |
| Sudan | 375 | | 28 | | 32 | 315 | | 9 | 0.6 | | |
| Palestine | 344 | | 2 | | 71 | 271 | | 67 | 0.4 | 27,000 | 5,293 |
| Mauritius | 332 | | 10 | | 306 | 16 | 3 | 261 | 8 | 14,445 | 11,358 |
| Venezuela | 331 | | 10 | | 142 | 179 | 2 | 12 | 0.4 | 458,737 | 16,132 |
| Montenegro | 322 | | 7 | | 206 | 109 | 2 | 513 | 11 | 6,864 | 10,929 |
| Equatorial Guinea | 315 | | 1 | | 9 | 305 | | 225 | 0.7 | 854 | 609 |
| Isle of Man | 313 | | 21 | | 258 | 34 | 21 | 3,681 | 247 | 3,049 | 35,857 |
| Maldives | 280 | 2 | 1 | | 17 | 262 | 2 | 518 | 2 | 5,296 | 9,798 |
| Gabon | 276 | | 3 | | 67 | 206 | 1 | 124 | 1 | 724 | 325 |
| Vietnam | 270 | | | | 222 | 48 | 8 | 3 | | 261,004 | 2,681 |
| Paraguay | 249 | 10 | 9 | | 111 | 129 | 1 | 35 | 1 | 8,891 | 1,247 |
| Rwanda | 225 | | | | 98 | 127 | | 17 | | 8,464 | 653 |
| Congo | 207 | | 8 | | 19 | 180 | | 38 | 1 | | |
| Guinea-Bissau | 205 | | 1 | | 19 | 185 | | 104 | 0.5 | 1,500 | 762 |
| Faeroe Islands | 187 | | | | 184 | 3 | | 3,827 | | 6,963 | 142,500 |
| Martinique | 175 | | 14 | | 83 | 78 | 5 | 466 | 37 | | |
| Myanmar | 150 | | 6 | | 27 | 117 | | 3 | 0.1 | 7,718 | 142 |
| Guadeloupe | 149 | | 12 | | 82 | 55 | 11 | 372 | 30 | | |
| Liberia | 141 | | 16 | | 45 | 80 | | 28 | 3 | | |
| Gibraltar | 141 | | | | 131 | 10 | | 4,185 | | 2,198 | 65,240 |
| Brunei | 138 | | 1 | | 124 | 13 | 2 | 315 | 2 | 13,428 | 30,694 |
| Ethiopia | 131 | 1 | 3 | | 59 | 69 | | 1 | 0.03 | 17,842 | 155 |
| Madagascar | 128 | | | | 90 | 38 | 1 | 5 | | 3,107 | 112 |
| French Guiana | 125 | | 1 | | 93 | 31 | | 419 | 3 | | |
| Cambodia | 122 | | | | 119 | 3 | 1 | 7 | | 11,975 | 716 |
| Trinidad and Tobago | 116 | | 8 | | 72 | 36 | | 83 | 6 | 1,683 | 1,203 |
| Cabo Verde | 114 | | 1 | | 2 | 111 | | 205 | 2 | 791 | 1,423 |
| Bermuda | 111 | | 6 | | 48 | 57 | 10 | 1,782 | 96 | 2,197 | 35,277 |
| Togo | 109 | | 7 | | 64 | 38 | | 13 | 0.8 | 6,675 | 806 |
| Sierra Leone | 104 | | 4 | | 12 | 88 | | 13 | 0.5 | | |
| Aruba | 100 | | 2 | | 73 | 25 | 4 | 937 | 19 | 1,649 | 15,445 |
| Zambia | 97 | | 3 | | 54 | 40 | 1 | 5 | 0.2 | 5,284 | 287 |
| Monaco | 95 | | 4 | | 58 | 33 | 1 | 2,421 | 102 | | |
| Eswatini | 91 | | 1 | | 10 | 80 | | 78 | 0.9 | 714 | 615 |
| Liechtenstein | 82 | | 1 | | 55 | 26 | | 2,151 | 26 | 900 | 23,605 |
| Uganda | 81 | | | | 52 | 29 | | 2 | | 29,279 | 640 |
| Bahamas | 80 | | 11 | | 25 | 44 | 1 | 203 | 28 | | |
| Barbados | 80 | | 7 | | 39 | 34 | 4 | 278 | 24 | 2,005 | 6,977 |
| Guyana | 78 | 4 | 8 | | 18 | 52 | 5 | 99 | 10 | 519 | 660 |
| Haiti | 76 | | 7 | 1 | 8 | 61 | | 7 | 0.6 | 776 | 68 |
| Mozambique | 76 | | | | 12 | 64 | | 2 | | 1,896 | 61 |
| Sint Maarten | 75 | | 13 | | 33 | 29 | 7 | 1,749 | 303 | 302 | 7,044 |
| Cayman Islands | 73 | | 1 | | 10 | 62 | 3 | 1,111 | 15 | 1,535 | 23,356 |
| Benin | 64 | | 1 | | 33 | 30 | | 5 | 0.08 | | |
| Libya | 61 | | 2 | | 18 | 41 | | 9 | 0.3 | 1,623 | 236 |
| French Polynesia | 58 | | | | 50 | 8 | 1 | 206 | | 2,409 | 8,576 |
| Nepal | 57 | | | | 16 | 41 | | 2 | | 57,189 | 1,963 |
| Chad | 52 | | 2 | | 19 | 31 | | 3 | 0.1 | | |
| CAR | 50 | | | | 10 | 40 | | 10 | | | |
| Macao | 45 | | | | 34 | 11 | 1 | 69 | | | |
| Syria | 43 | | 3 | | 21 | 19 | | 2 | 0.2 | | |
| Zimbabwe | 40 | 8 | 4 | | 5 | 31 | | 3 | 0.3 | 7,642 | 514 |
| Eritrea | 39 | | | | 19 | 20 | | 11 | | | |
| Saint Martin | 38 | | 3 | | 24 | 11 | 3 | 983 | 78 | | |
| Mongolia | 38 | | | | 10 | 28 | | 12 | | 7,455 | 2,274 |
| Malawi | 36 | | 3 | | 7 | 26 | 1 | 2 | 0.2 | 744 | 39 |
| South Sudan | 35 | 1 | | | | 35 | | 3 | | | |
| Angola | 27 | | 2 | | 7 | 18 | | 0.8 | 0.06 | | |
| Antigua and Barbuda | 24 | | 3 | | 11 | 10 | 1 | 245 | 31 | 113 | 1,154 |
| Timor-Leste | 24 | | | | 6 | 18 | | 18 | | 322 | 244 |
| Botswana | 23 | | 1 | | 5 | 17 | | 10 | 0.4 | 6,016 | 2,558 |
| Grenada | 20 | | | | 13 | 7 | 4 | 178 | | 1,406 | 12,495 |
| Laos | 19 | | | | 8 | 11 | | 3 | | 1,927 | 265 |
| Belize | 18 | | 2 | | 9 | 7 | 1 | 45 | 5 | 995 | 2,502 |
| Fiji | 18 | | | | 12 | 6 | | 20 | | 1,007 | 1,123 |
| New Caledonia | 18 | | | | 17 | 1 | 1 | 63 | | 4,456 | 15,608 |
| Saint Lucia | 17 | | | | 15 | 2 | | 93 | | 446 | 2,429 |
| Curaçao | 16 | | 1 | | 13 | 2 | | 98 | 6 | 343 | 2,090 |
| Dominica | 16 | | | | 13 | 3 | | 222 | | 383 | 5,320 |
| Namibia | 16 | | | | 8 | 8 | | 6 | | 704 | 277 |
| St. Vincent Grenadines | 16 | | | | 8 | 8 | | 144 | | 108 | 973 |
| Saint Kitts and Nevis | 15 | | | | 6 | 9 | | 282 | | 293 | 5,508 |
| Nicaragua | 13 | | 3 | | 7 | 3 | | 2 | 0.5 | | |
| Falkland Islands | 13 | | | | 11 | 2 | | 3,736 | | 372 | 106,897 |
| Turks and Caicos | 12 | | 1 | | 5 | 6 | | 310 | 26 | 83 | 2,144 |
| Burundi | 11 | | 1 | | 4 | 6 | | 0.9 | 0.08 | 284 | 24 |
| Gambia | 11 | 1 | 1 | | 8 | 2 | | 5 | 0.4 | 401 | 166 |
| Montserrat | 11 | | 1 | | 2 | 8 | 1 | 2,204 | 200 | 36 | 7,212 |
| Greenland | 11 | | | | 11 | 0 | | 194 | | 1,200 | 21,138 |
| Seychelles | 11 | | | | 6 | 5 | | 112 | | | |
| Suriname | 10 | | 1 | | 8 | 1 | | 17 | 2 | 404 | 689 |
| Vatican City | 10 | | | | 2 | 8 | | 12,484 | | | |
| Sao Tome and Principe | 10 | 2 | | | 4 | 6 | | 46 | | 19 | 87 |
| MS Zaandam | 9 | | 2 | | | 7 | | | | | |
| Mauritania | 8 | | 1 | | 6 | 1 | | 2 | 0.2 | 1,032 | 222 |
| Papua New Guinea | 8 | | | | | 8 | | 0.9 | | 604 | 68 |
| Bhutan | 7 | | | | 5 | 2 | | 9 | | 10,045 | 13,018 |
| Yemen | 6 | | 2 | 2 | 1 | 3 | | 0.2 | 0.07 | 120 | 4 |
| British Virgin Islands | 6 | | 1 | | 3 | 2 | | 198 | 33 | | |
| St. Barth | 6 | | | | 6 | 0 | | 607 | | | |
| Western Sahara | 6 | | | | 5 | 1 | | 10 | | | |
| Caribbean Netherlands | 5 | | | | | 5 | | 191 | | 110 | 4,195 |
| Anguilla | 3 | | | | 3 | 0 | | 200 | | | |
| Saint Pierre Miquelon | 1 | | | | | 1 | | 173 | | | |
| Total: | 3,232,064 | 13,880 | 228,505 | 475 | 1,007,866 | 1,995,693 | 59,768 | 414.6 | 29.3 | | |