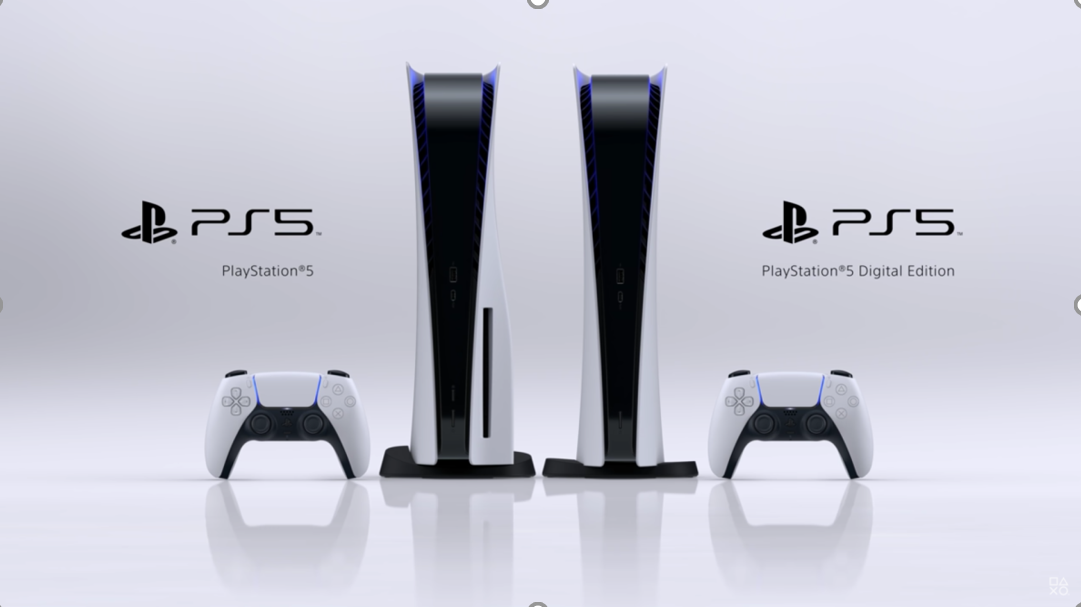 Although  the highly anticipated and eagerly awaited Sony PlayStation 5 next generation Console was released on November 19th in the UK, it is very difficult to get hold of one, as the limited stock selling out within minutes across national retailers lie Argos, Game, John Lewis, Currys, Amazon. Giving buyers the option of purchasing a disk version which retails at £449.99, and the fairly cheaper digital version which retails at £359.99. Following the November release Sony has been unable to keep up with this 'unprecedented' demand, frustrating gamers across the world.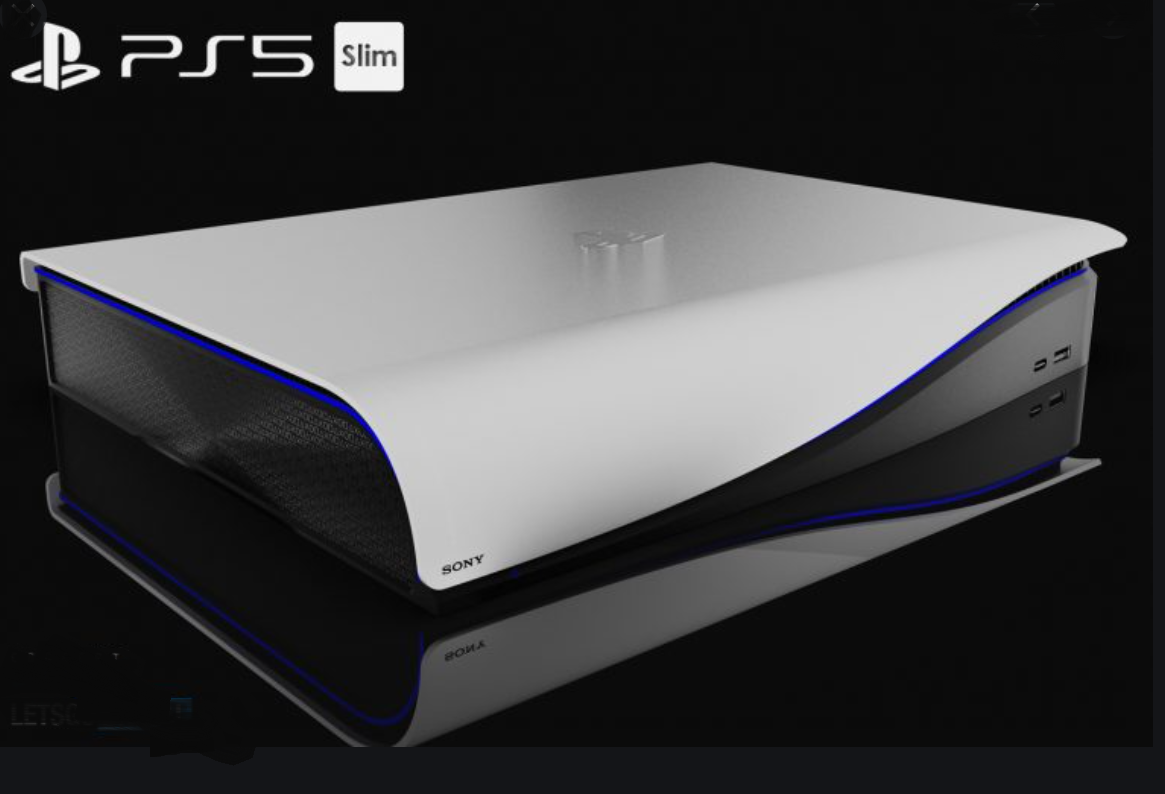 Sony had originally planned to produce 6 million consoles by the end of March 2021 but had since changed this to mass produce 10 million units by June as they had seen "the prolonged effects of the COVID-19 pandemic boosting demand for gaming". As they had predicted this proliferation in demand, they had assumed that they would be able to keep up with demand. Ultimately their efforts were not good enough.
UK retailers have had several online drops since November and have still not managed to keep up. With retailer's like John Lewis and Game's website pages dedicated to the PS5 release crashing due to an overwhelming amount of people accessing the website in an attempt to get the sought-after console. Since then, websites like Curry's have established a queuing system whenever they drop new stock. Unfortunately for UK gamers they have shown over 100,000 people within the queue trying to purchase the console. As they waited in line, stocks were selling out within minutes, leaving thousands to find out via a message update stating, "We have now SOLD OUT of the PS5. Please keep an eye on our website for new console updates".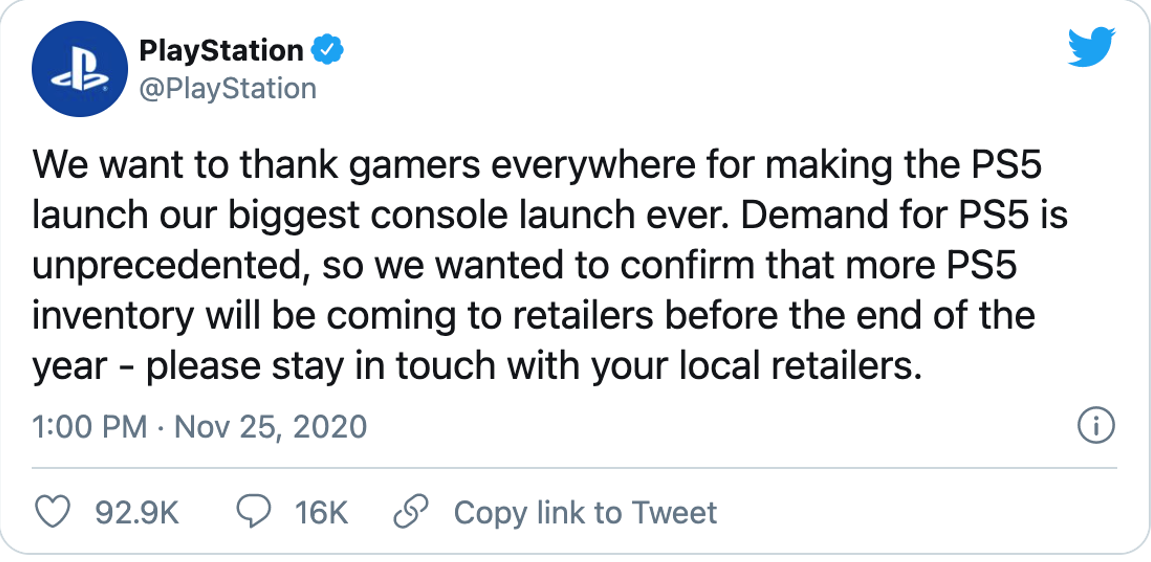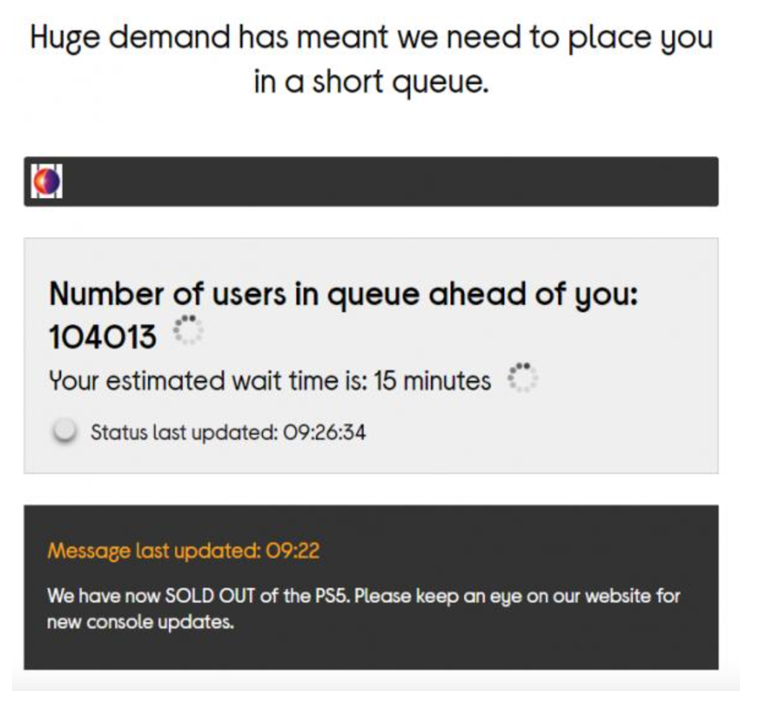 Many gamers have assumed that while part of the problem is the limited stock available. Another factor that makes it nearly impossible for legitimate buyers to get one is the presence of scalpers, using bots to suck up all the stock and resell it at a premium on third-party sites like eBay or in the dark web. With hundreds of pages selling the PS5 for over a thousand pounds to those unable to purchase and unwilling to wait to get the console from retailers. Some estimates suggest that scalpers have made over £60 million in revenues in 2020 reselling the console on eBay.
For those still looking to purchase the elusive console, it's best to wait until Sony and UK retailers are able to catch up with the demand. As with a limited game library, price gouging by scalpers and the fact that PS4 games will still be made for another few years before Sony solely produces PS5 games, gamers are better of waiting a little while longer.
Sony, the world's No.2 video game console maker after Nintendo by shipments, has raised production orders by 9 million units  from 5 million units it had planned in spring. Playstation 5 is first completely new generation of he console in seven years, after the Japanese company launched the Playstation 4 in 2012 and an upgrade in 2016. The two tech companies are still looking for way to offset the declining smartphone market, the biggest consumer electronics gadget.
During the pandemic, the gaming industry witnessed a record number of new online player additions as more consumers staying home due to lockdown are considering gaming for entertainment at home after they are bored watching Netflix and Amazon Prime, Disney. The standalone consoles also features integrated computing capability on a cordless headset, rather than relying on a personal computer with a cord to run the device or even laptop or smartphone.
https://asia.nikkei.com/Business/Technology/Facebook-and-Sony-ramp-up-output-of-gaming-devices
https://www.bloomberg.com/news/articles/2020-07-15/sony-boosting-playstation-5-output-to-meet-virus-demand-surge
https://metro.co.uk/2020/12/15/scalpers-have-sold-over-60000-ps5-and-xbox-series-x-consoles-on-ebay-13754589/#:~:text=Scalpers%20have%20sold%20over%2060%2C000%20PS5%20and%20Xbox%20Series%20X%20consoles%20on%20eBay,-Shops%20might%20not
Maya Salgado Nair