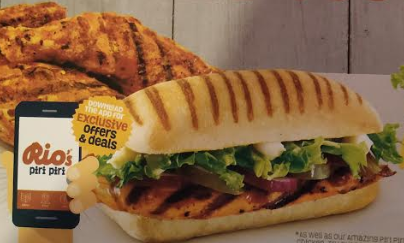 FINDING "BUDGET" GOOD FOOD IN LONDON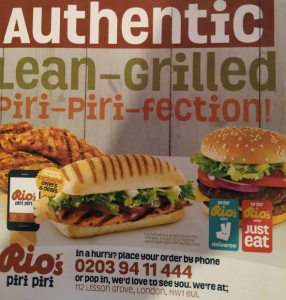 Rio's Piri Piri at 112 Lisson Grove London NW1 6UL opened on April 5th this year and is the third branch in London joining Croydon and Wembley. There are eleven more outside the London area. Rio's Piri Piri branches first opened in 2015.  Affiliated with Deliveroo Just Eat and Uber Eat, with a minimum order charge within a 1.5 mile radius,  you can also eat at the clean well decorated eaterie between 11 am and 11 pm each day. Order online at riospiripiri.co.uk or visit for a meal which can be quite substantial. The line the company takes, is that they serve food with various degrees of being spiced up including serving thin crisp fries with piri piri seasoning on them.  Meals can be ordered as normal, spicey or barbecue.  Frango is a good seller, chicken and rice and a Macho double fillet are also popular.
I had the Grande – succulent piri piri chicken breast in a soft bun.  It is served with fries and two sauces – delicious creamy garlic mayo and a hot but not too hot spicey dip. Plenty of salad was in the bun.  6.99 pays for this with a drink.  Additionally there are milkshares at 2.99 each or smoothies for the same price.  The restaurant makes up the smoothies with soft frozen fruit veg and salad ingredients.
The eaterie works mainly with four types of bread:-  flour baps,  normal baps,  seeded baps and  brioche buns and chicken, beef and lamb.
A plan for the future to ensure best service to customers is to introduce a loyalty card and perhaps discounts for school parties.
I can be certain that if you pay Rios piri piri a visit with friends or family for a meal you will definitely find the portions tasty and  generous and the service efficient.  Dining out for something a great deal more flash than a simple burger bar but not as expensive as a fully fledged high street silver service restaurant it fits in the market of good places to eat.
ENJOY