Joe Root's ton ensure sloppy West Indies is beaten by 8 wickets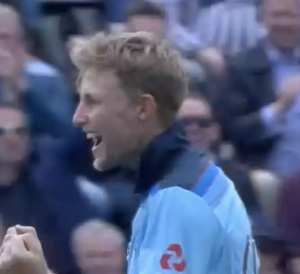 ICC WORLD CUP 2019 at Hampshire Bowl. Southampton
ENGLAND VS WEST INDIES
England 213-2 off 33.1 ov Bairstow 45 off 36, 7 fours, Joe Root 100 off 94, 11 fours, Woakes 40 off 54, 4 fours, Gabriel 2-49.
West Indies 212 ao   off 44.4 ov Gayle 36 off 41, 5 fours, 1 six, Pooran 63 off 78, 3 fours, 1six, Hetmyer 39 off 48, 4 fours, Arcber 3-30, Punkett 1-30, Wood 3-18, Root 2-27.
England win by 8 wickets.
England beat West Indies in Southampton despite injuries to Eoin Morgan who suffered a back spasm and Jason Roy hurt his left hamstring both while fielding. 
England dismissed West Indies for 212 thanks to hostile bowling by Mark Wood and Barbados born Jofra Archer who took three wickets each.
Stand-in opener Joe Root, who had already taken two wickets with his off-breaks, scored an unbeaten century. He added 95 for the first wicket with Jonny Bairstow then 104 with Chris Woakes and England won by eight wickets with 16.5 over to spare and play Sri Lanka next Friday.
Root has now three World Cup centuries and England have an incredinle chance to win the World Cup this time.
West Indies captin Jason Holder said "We did not put enough run on the board. There were few careless shots, if we had hung in a bit longer we could've gone deeper and got some more in the end."
West Indies play Bangladesh on Monday knowing that defeat would put them on the brink of elimination.