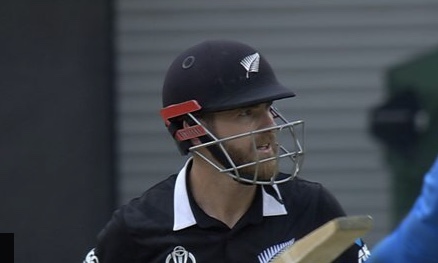 New Zealand defeated India to reach finals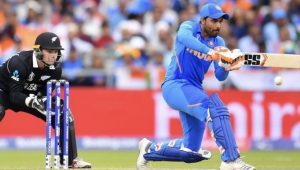 ICC World Cup men's cricket 2019 played at Old Trafford, Manchester.
New Zealand Vs India
New Zealand 239-8 (50 ov) Williamson 67, Taylor 74, Nichols 28, B Kumar 3-43, Bumrah 1-39,  Pandya 1-55, Jadeja 1-34, Chagall 1-63
India 221 ao (49.3 ov)  Pant 32, Pandya 32, Dhoni 50, Jadeja 77, Boult 2-42, Henry 37-3, Ferguson 1-43, Neesham 1-49, Santner 2-34.
New Zealand win by 18 runs
New Zealand defeated India by 18 runs in the first semi-final of the 2019 World Cup cricket at Old Trafford, Manchester on Wednesday to reach the finals for the second time. This is the second time India were eliminated for the second time in the semifinals. The semifinals was played over two days because rain interruptions.
India chasing 240 runs were reduced to 24-4 and 92-6 before Ravindra Jadeja smashed 77 off 59 balls and MS Dhoni 50 produced a 116-run partnership to give India some hope. With 32 runs needed from 18 balls Jadeja hit Trent Boult high into the air for captain Kane Williamson  to catch and dismiss him for 77.
Dhoni hit six from the first ball of 48th over but was runout by Guptil to realistically end India's slimest chances.
Trent Boult swung the ball,  Matt Henry and Lockie Ferguson bowled with pace, Needham and Guptil produced outstanding fielding to lift New Zealand to final.
"45 minutes of poor cricket  cost us a place in the final" Virat Kohli.
New Zealand play Australia or England in final at Lords on 14th July.
New Zealand won the toss and decided to bat first.