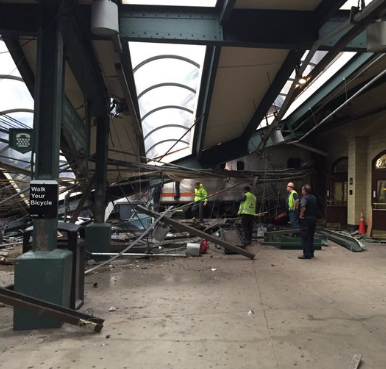 One dead and 108 injured in New Jersey – Hoboken train station crash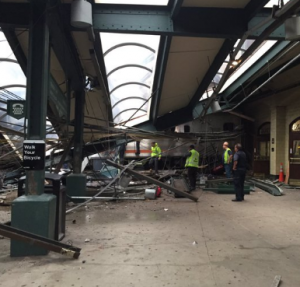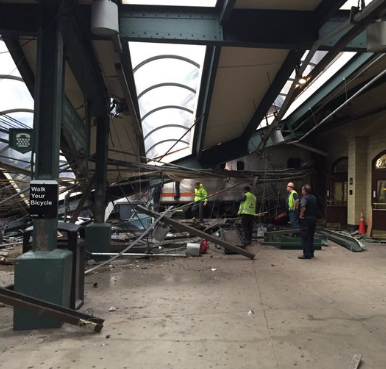 A commuter train crashed into a railway station in the US state of New Jersey and went through ticket barriers  and into the reception area of Hoboken station, killing a woman bystander and injuring 108 people. Fabiola Bittar de Kroon 34 was struck by debris while standing on the platform and lost her life.
There was extensive damages to the train carriages and station, as part of the  building roof caved in.
Following the crash a huge emergency services operation was swung into action with fire fighters, transport staff helping people from wrecked carriages. Hoboken is across the Hudson River from New York City . Several commuters use the busy station to travel into Manhattan.
The train driver Thomas Gallaher (48) was seriously injured and being treated at a local hospital and was co-operating with investigators. The investigator are trying to recover a recorder from the train to find out what led to the crash.
The PTC safety systems which are designed to automatically override actions of  train engineers if the locomotive is traveling too fast , failed. The system uses WIFI, GPS and specific coding system tor relay real-time information from trains to control centre.
The structural integrity of part of the building used for PATH commuter trains have been deemed safe. The National Transportation Safety Board (NTSB) would be looking into similarities to a 2011 crash at the same station which injured 34 people, and cause for that was excessive speed.
US railroads are under government orders to install positive train control, a safety system designed to prevent accidents by automatically slowing or stopping trains if they are travelling too fast, however, so far, none of New Jersey Transit's trains or tracks are fully equipped with the latest safety system.