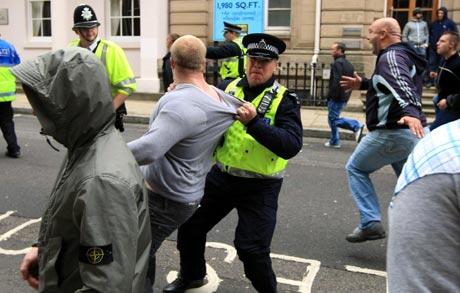 One of their own (that is a policeman) is arrested every day – by British Police
One officer each day is arrested by their own in Great Britain, according to data released under the Freedom of Information Laws.  This story was originally in the English Sunday Times on September 13 2015.  Over the past five years there has been at least one arrest every 27 hours – totalling over 1,629 officers.  Offences include violence including grievous bodily harm, manslaughter and assault.  This data comes from 43 forces in Wales and England.  More than 500 officers went on to be convicted, punished or cautioned for crimes ranging from drug trafficking, sexual offences including rape, traffic offences and fraud.  It is somewhat surprising that this story is on page 29 of a paper not many people read, which is kept going by The Sun on Sunday in Rupert Murdoch's stable and failed to reach a front page anywhere? Six of those officers were convicted of sexual offences involving children. The worst record involved Lancashire police according to Home Office figures on police force size.
The Metropolitan Police in London figured highest on the statistics – 781 officers arrested and 146 either cautioned or convicted. One in every 40 officers was arrested in the past five years – almost one in 200 were convicted.
The "Plebgate" affair involved PC Keith Wallis, who was jailed for 12 months after the "altercation" at the Downing Street entry "station" – a high security area protecting 10 Downing Street  involving Andrew Mitchell, former Tory Chief Whip.
Sir Bernard Hogan Howe is the Met Commissioner.  Born in Sheffield in the late fifties (1957), he supervises police conduct and protocol around the UK and especially in the capital with the London Metropolitan Police. Regarding recently divulged statistics on "police corruption",  Keith Vaz, chairman of the home affairs select committee ruminates  that "these figures are surprising and the committee will want to put them to the commissioner". Vaz was surprised to receive these figures at a "late" date. Another police offence case involved 16 crimes with Devon and Cornwall police, including perverting the course of justice, blackmail and witness interference.
In West Midlands police, Osman Iqbal a police officer, was given 7 years for money laundering, supplying class A drugs and involvement in prostitution. The Sunday Times alleges it contacted various forces and were assured that arrests did not always mean guilt was definite.  Cornwall and Devon were featured quite highly on allegations however.
Jacqui Cheers who is a spokeswoman for The National Police Chief's Council assures us that "If an officer is suspected of criminal activity, we act quickly to investigate as we want to investigate as we want to ensure the service maintains the highest standards of integrity and conduct."
Story by P