Shaping of modern Britain by Oxonians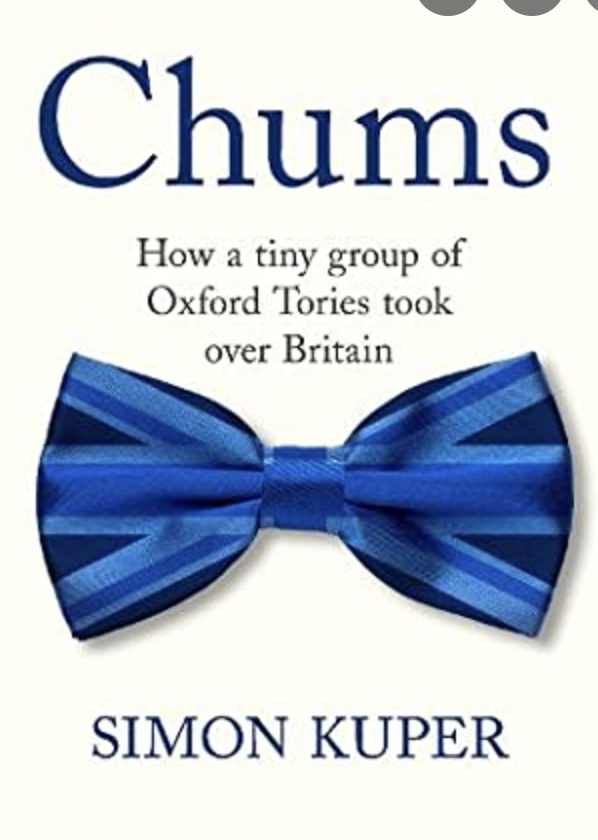 Boris Johnson, Michael Gove, David Cameron, George Osborn, Theresa May, Dominic Cummings, Daniel Hannan, and Jacob Rees-Mogg are all not just colleagues, but they are peers, rivals, and friends and they walked out of the world of student debates onto the national stage, they brought their university politics with them.  These smirking Oxonians think that politics is all just a game. They debated each other in tutorials, ran against each other in student elections, and attended the same balls and black-tie dinners.
Eleven of the fifteen post-war British prime ministers went to Oxford, Simon Kuper in Chums reveals how the rarefied and privileged atmosphere of this narrowest of talent pools and the friendships and worldviews it created – shaped modern Britain.
Simon Kuper an Oxonian and Financial Times columnist went to that university at roughly the same time as Boris Johnson, Michael Gove, Dominic Cummings, and others all notable politicians who would later become leading Brexiters.  Having spent most of his youth abroad, from South Africa to the Netherlands, argues the most interesting, as it has deep psychological and cultural ramifications – is an Oxford culture or affectation of unseriousness, especially among those studying the humanities.
Emmanuel Macron's reaction in November  2021, when Johnson tweeted a letter to the French president about cross-channel migrants,  irritated Macron used the word "serious"  seven times to underline the UK Prime minister's seemingly disrespectful behaviour. Every country has its factory of the elite. France has free and unselective universities,  the grandes ecoles. The highly selective culture generale will certainly work for or against you. You should know your Monet from your Manet.
Things have changed for the better. Students are now a truly international bunch and consider Oxford as "stage one of their working lives".
The university newspapers of thirty years ago are full of recognisable names in new stories, photos of social events, and Bullingdon Clun reports.  Many walked straight out of the world of student debates onto the national stage.
Chums look at the university clique-turned-Commons majority that will blow the doors of Westminster and change the way look at our democracy forever.
Chums: How a Tiny Caste of Oxford Tories Took Over the UK by Simon Kuper, Profile £16.99, 240 pages.