"The High Note" – a new "funny" feature film which embraces the ever popular genre of Pop Music!  Review by Penny Nair Price.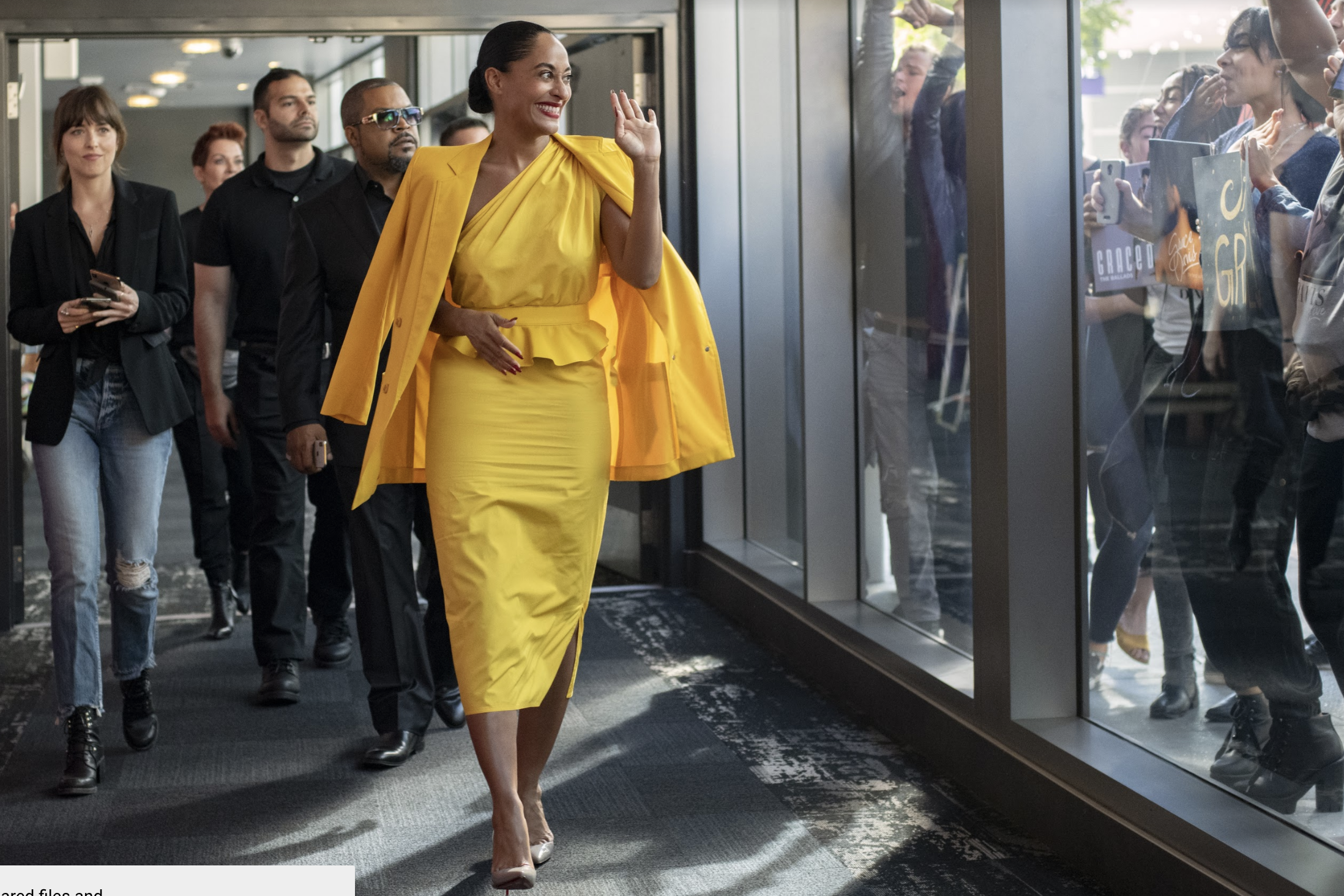 This brand new take on the music scene in LA is directed by Nisha Ganatra and stars Dakota Johnson as Maggie – manager, (credits include "Fifty Shades of Grey")  and Tracie Ellis Ross as her singer superstar protégé   – Grace Davis. Also in the cast is Kelvin Harrison Junior, and Ice Cube as Jack Robertson. The script is penned by Flora Geeson.
The two talented, ambitious women taking the lead roles address the problem of women over forty being sidelined in music entertainment, and this story covers their "survival" and breakthrough after that "watershed" age.
Comparable genres of film include "Broadcast News"," Working Girl" and "The Devil Wears Prada" and the film  covers behind the scenes machinations of the Creative Process in engineering talent into production, performance and general marketing of such, including lavish costume design and album covers – which can make or break sales.
Only three women – Janet Jackson, Mariah Carey and Linda Perry have ever been nominated as Producer of the Year in the history of the American grammys.  The ladies in this film portray a kind of uber feminist drive to see what they regard as "fair play" for their gender and their talent.
Interestingly, in this "feelgood factor" with a difference film, Tracee Ellis Ross as Grace Davis, it is claimed, this is the first time she has sung in public on film – so there is a story within a story!  Viewers can feel the emotional upheaval it lent her!
Ice Cube as Jack Robertson, lends and injects both comedy and gravitas into the proceedings. The songs performed include "The First Cut is The Deepest", "New to Me", "Jealous Guy" and "Let's Stay Together".
Absolutely without any doubt at all, a mention must be made for costume designer, Jenny Eagan, who had to design for and dress star actress, Tracee.  Fortunately, Tracee has done modelling before and posed in a variety of designer outfits for album covers and performances giving a stunning and awe struck audience a veritable treat.
This film is a Working Title Films production together with Focus Features and Perfect Universe Investment Inc.  The soundtrack for the film is on Republic Records.
The High Note is available to rent at home 29th May on Sky Store, Amazon Prime Video and other digital retailers