Tiger Woods wins his 5th Masters, 15th major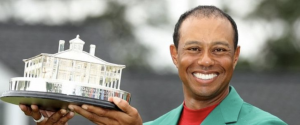 Tiger Woods wins his fifth Masters Green Jacket and first major since 2008 after a thrilling final round at Augusta. Brooks Koepka, Dustin Johnson and Xander Schauffele tie for second on -12.
Day, Simpson, Molinari and Finau -11, Poulter finishes -8.
At the age of 43, Tiger Woods, 14- time major winner uses course knowledge to this advantage. He is in the hunt for the record 18, held by Jack Nicklaus. Tiger Woods is out to prove that Augusta National is a place for middle-aged men  cannot just dream for past glories  but re-enact them. Woods started with a string of pars and made his third bogey in three days on the fifth. He also responded with a pair of tap-in birdies and followed with a show of controlled power the par-five eighth. Producing perfect strike and his drive was long enough to allow a shot to the green with a rescue club and another one finished 9 feet from the hole. Although the eagle putt was missed,  but there was a third birdie in a row. On the ninth and 11th and 13th holes Woods hit wayward drives as he made  pars on 9th and 11th and made birdie on the 13th.