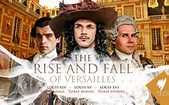 Versailles saga to replace Downton in UK TV Hits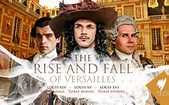 Each episode of the new Versailles drama cost twice as much as filming for Downton and it is a French period drama, in spoken English set in the world of lust, power and betrayal regarding a young Louis XIV created by Helen Mirren's nephew, Simon and creator of TV series Spooks, David Wolstencroft but clearly based on the true facts of history. Louis, known as The Sun King is played by British Actor George Blagden a 25 year old who was up against stiff competition with French thespians who wanted the same part.
Versailles opens in 1667 – Louis was just 28 then but he went on to be the longest reigning monarch, ruling for 72 years and 110 days until his death in 1715.  The programme makers point out that tax subsidies would have been higher if it had been filmed across the borders outside France.
The producers have high ambitions – it has already been sold in Scandinavia, Spain and Germany and this one production amounts to an estimated 25% of French TV exports in the last two years.
British audiences now have the chance to duly enjoy French drama at its best. Watch out for the saga of Versailles coming to your screens soon.
Penny Nair Price