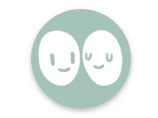 Cuddle is back this time as Spoonr
On 18 September 2014, Cuddlr was officially launched in the Apple App Store, as a free app. The tagline, for the App "Great things start with a hug", the app touted itself as "a location-based social-meeting app just for cuddling". According to the website: "It's a way of finding people near you who are up for a cuddle, without any pressure or expectation." It was not meant to be another dating app. Its founders were serious when they said it was supposed to be strictly platonic."
But various media reports generated a controversy which instilled further interest, and within the first week Cuddlr had around 200,000 downloads, landing it on Apple's "Top 10 Most Downloaded Apps" list. But in a flash, Cuddlr was gone.
Cuddle parties, where a group of strangers could pay to meet up in a room with a supervisor and cuddle each other platonically, had popped up in recent years, and so had professional cuddlers – people who got paid by other people to cuddle with them.
Like Tinder, Cuddlr was linked through a Facebook or Twitter profile to ensure that the user was an actual person. To add an extra level of safety, Cuddlr used an like/dislike system to help people decide whether to cuddle with someone.
 Cuddlr was for people who want to make a connection with somebody, and then go about their day. If that person happens to make an amazing impression, then that's great, and they could plan to meet up with them again.
After the app launched, and eventually the revenue from in-app ads to pay for the server costs, which were up to about £200 a month last November.
People meeting up with a stranger via an app like Tinder and having an intimate interaction such as sex as society doesn't necessarily see sex as an intimate thing in itself.
"Intimacy is a feeling of psychological or emotional closeness,"  and what exactly your cuddling style says about you
Williams, Brown and Kulak sold theCuddlr app to New York-based entrepreneur Eugene Belenky, who relaunched it in September with the same premise but a different name: Spoonr. Belenky said he renamed the app because he "had to", but would not say why, or how much he paid for it.
Belenky also owns another app in the same general genre as Cuddlr. Tryster Dating is a free app that lets you "meet, chat and flirt with people that are literally a few feet away from you".
Spoonr currently has around 300,000 users, and sees thousands of cuddle requests daily, said Belenky, who wants to get to 500,000 users within six months. So platonic deal of cuddling still carries on under the name Spoonr.