England completes 3-0 series win against NZ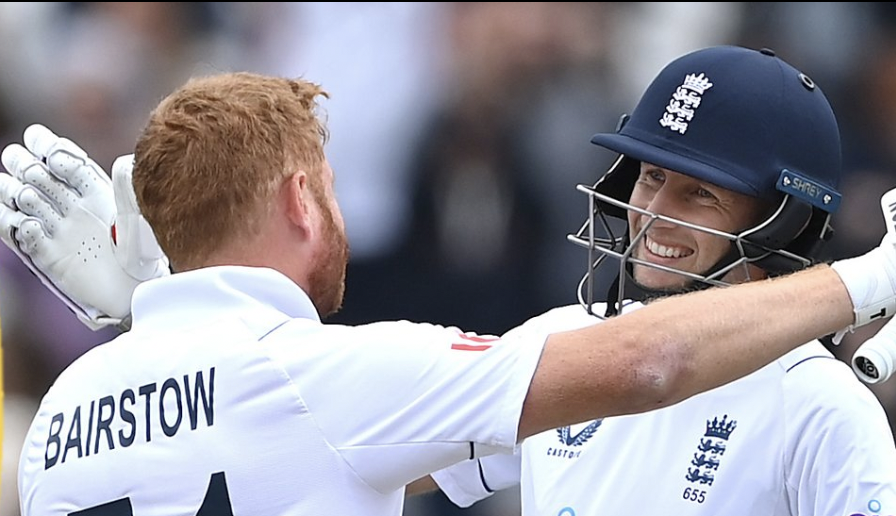 27 Jun 2002, Test Match Series England vs New Zealand Day 4 of 5
New Zealand  329 ao off 117.3ov Mitchell 109 off 228, 9 fours, 3 sixes, Blundell 55 off 122, 7 fours, Southee 33 off 29, 5 fours, 1 six, Broad 3-62, Leach 5-100, Potts 1-34, Overton 1-85. Second Innings 326 ao off 105.2ov Latham 76 off 100, 12 fours, Williamson 48 off 115, 8 fours, Mitchell 56 off 152, 9 fours, Blundell 88no off 161, 15 fours, Leach 5-66, Potts 3-66, J Overton 1-61, Root 1-29
England  264-6 off 49ov, Bairstow  130  no off 126, 21 fours, J Overton 89 no off 106, 12 fours, 2 sixes, Boult 3-73, Southee 1-78, Wagner 2-53 Second Innings 296-3 off 54.2ov  Crawley 25 off 33, 6 fours, Pope 82 off 108, 12 fours, Root 86 no off 125, 11 fours, 1 six, Bairstow 71 no off 44, 8 fours, 3 sixes,  Southee 1-68, Bracewell 1-109.
England wins by 7 wickets.
England sealed a stunning 3-0 series win on the final day of the third Test against New Zealand at Headingly. Overnight England needed 113 runs to complete their chase of 296 in only 65 minutes as they won by seven wickets.
England lost Ollie Pope for 82  by Tim Southee's fine ball in the first over, but an unbeaten Jonny Bairstow  71 from 44 balls, and Joe Root  86 from 125 balls, dominantly batted with an unbroken stand of 111 to romp home.  Root and Bairstow took 17 from the second over of the day, bowled by Trent Boult, with the pair hitting two fours each. This marks a remarkable turnaround winning start for captain Ben /stokes and coach Brendon McCullum who took over before the series following England's dismal run of one win in 17 Tests.
The next Test match is with India in a one-off Test rearranged from last summer.